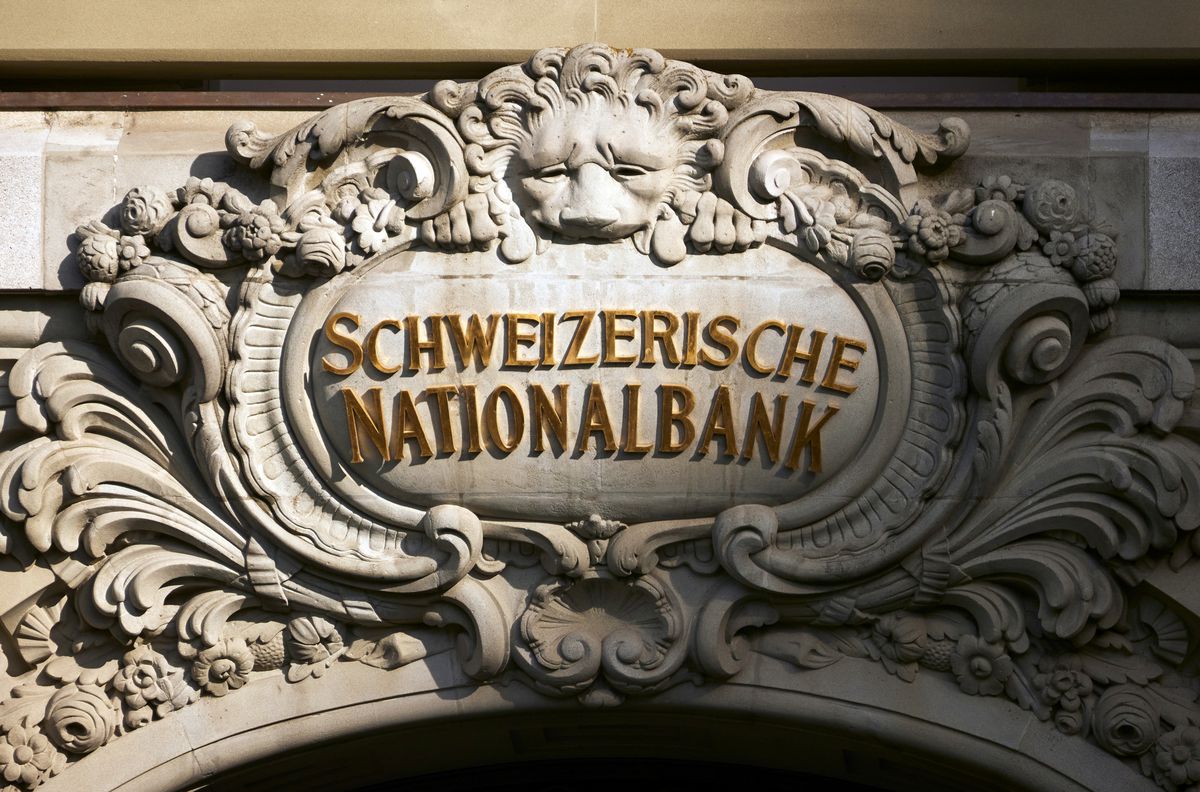 A sign is pictured on the Swiss National Bank (SNB) in Bern, Switzerland, October 11, 2021. REUTERS/Denis Balibouse/File Photo
Swiss National Bank sticks to loose policy, diverging from Fed and others
ZURICH, Dec 16 (Reuters) – The Swiss National Bank stuck to its ultra-loose monetary policy on Thursday, diverging from the tightening path being taken by a growing number of central banks and despite higher inflation and a surge in the value of the safe-haven Swiss franc.
The SNB said its current policy, combining the world's lowest interest rates with currency market interventions, remained appropriate despite the franc's recent rise to six-and-a-half year highs.
By contrast, the U.S. Federal Reserve on Wednesday said it would end its pandemic-era bond purchases in March and pave the way for three quarter-percentage-point interest rate hikes by the end of 2022. read more
Norway's central bank raised its benchmark interest rate on Thursday as widely expected and said more hikes will likely follow next year. read more
Also meeting on Thursday, the European Central Bank is all but certain to dial back stimulus one more notch, while the Bank of England could become the first of the major central banks to raise interest rates after inflation in Britain hit a decade high of 5.1% in November. read more
Although Swiss inflation is rising, it was at a comparatively modest rate of 1.5% in November. SNB Chairman Thomas Jordan said he thought inflation had peaked at this level and would decline during 2022.
Despite the rise of the franc, Jordan stuck to his description of the franc as only "highly valued", because of the inflation differences between Switzerland and other countries.
Since its last monetary policy assessment, the Swiss franc has appreciated 3% more in nominal and trade-weighted terms and by some 6% since the beginning of the pandemic, Jordan told a press conference.
"The nominal appreciation ..does not entail an appreciation to the same extent in real terms," Jordan said.
"The real trade-weighted Swiss franc exchange rate – which takes into account the inflation rate differential with other countries – has hardly changed since the beginning of the pandemic," he said. "There is thus no change in our assessment that the Swiss franc remains highly valued."
Jordan said global uncertainties could trigger increased demand for the franc. The SNB would continue to monitor the situation and react as necessary, he said.
Capital Economics said the comments meant any change in SNB policy remained far off.
"While the US Fed is now clearly signalling three rate hikes next year, interest rate hikes by the Swiss National Bank remain a distant prospect," economist David Oxley said.
"The Bank's strategy of maintaining a negative rate differential with the ECB means that it is likely to keep rates on hold at -0.75% until well beyond the end of our forecast horizon," he said, adding that he expected no change before the end of 2024.
Source: https://www.reuters.com/markets/europe/swiss-national-bank-keeps-expansive-policy-despite-more-expensive-franc-2021-12-16/