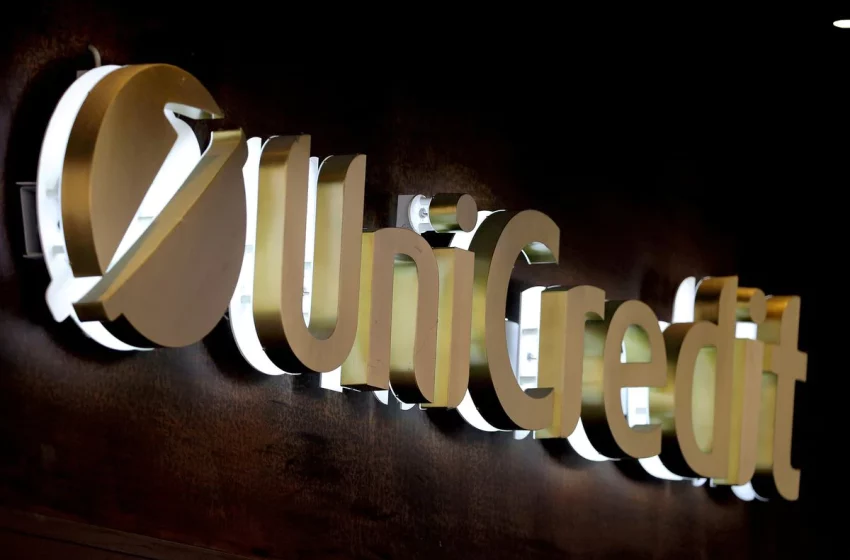 UniCredit bank logo is seen in Siena, Italy June 29, 2017. REUTERS/Stefano Rellandini/File Photo
Italy's UniCredit beats profit forecasts and drops Russian deal
MILAN, Jan 28 (Reuters) – Italian bank UniCredit (CRDI.MI) posted better than expected 2021 results on Friday as the push by new Chief Executive Andrea Orcel to lift revenue began to bear fruit while costs remained in check despite rising pay and one-off charges.
UniCredit, the only bank Italian supervisors deem of global systemic importance, also confirmed it was no longer exploring a potential bid for Russian lender Otkritie Bank due to current geopolitical tensions with Moscow over Ukraine.
Orcel is betting on bold capital distribution plans to drive UniCredit's shares higher and the bank said it would distribute 3.75 billion euros ($4.2 billion) to shareholders, with a 1.17 billion euro dividend and a 2.58 billion euro share buyback.
UniCredit shares, which currently trade at a discount to rivals, rose 2% in early trade, outperforming a flat Milan blue-chip stock index (.FTMIB).
"Onwards and upwards," Citi analysts said, adding that the results were "already showing evidence on the new group strategy, and building for improving return overtime".
Orcel's track record in investment banking has fuelled expectations UniCredit will pursue a merger or acquisition though it walked away from a rescue deal for rival Monte dei Paschi (BMPS.MI) in October after failing to agree terms.
The former Merrill Lynch banker said UniCredit would continue to review its M&A options, but he ruled out pursuing deals of a size that would hurt UniCredit's goal of returning capital to shareholders in coming years.
"When I make a promise I keep it," he told reporters.
As of Thursday, UniCredit shares had climbed 19% since he pledged on Dec. 9 to generate over 16 billion euros in capital by 2024 and give it to shareholders via dividends and buybacks.
RUSSIAN DEAL DROPPED
Earlier this month, reports that UniCredit was exploring a bid for Russian bank Otkritie hurt its shares, with markets fretting about increased geopolitical risks and the threat to the bank's capital return goals.
UniCredit has now dropped the deal due to the political situation, Orcel said.
He said, however, that it was in line with the bank's payout targets because UniCredit would have exchanged its existing local business for a controlling stake in Otkritie when Russia's central bank lists it.
UniCredit said 2021 revenue came in at 18 billion euros, ahead of its forecast for more than 16 billion euros, It said underlying profit was 3.9 billion euros, again higher than its outlook of more than 3.7 billion.
"The operating performance was better than anticipated with total revenues increasing 4.8% year-on-year," broker Banca Akros said.
Overall costs were also lower than the bank's forecasts, despite rising variable pay for executives. UniCredit also reported a slightly higher than expected core capital ratio.
Restructuring costs and other charges linked to disposals of non-core assets under the 2022-2024 plan Orcel unveiled on Dec. 9 led a 1.44 billion euro loss in the October to December quarter, above an average forecast of 1.15 billion euros in a company-provided analyst consensus.
UniCredit said it had struck new insurance deals with Germany's Allianz (ALVG.DE) to drive fee income higher in the years ahead. Orcel also said UniCredit would continue to streamline its multiple insurance partners.
Under the new deal with Allianz, which owns 3.13% of UniCredit, the Italian lender will be able to distribute its own products through the insurer's digital platform.
The two partners also extended their accords in Italy, which would have expired this year, to 2027, with an option for UniCredit to leave from 2024, though Orcel said he did not expect it would be exercised.
($1 = 0.8987 euros)
Additional reporting by Gianluca Semeraro; Editing by Agnieszka Flak and David Clarke
Source: https://www.reuters.com/world/europe/unicredit-beats-2021-guidance-despite-q4-loss-2022-01-28/