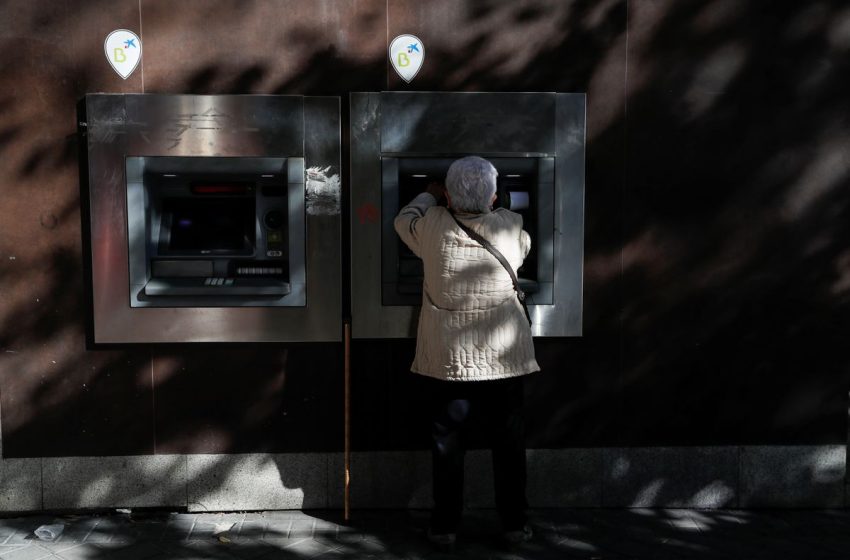 A woman uses a Caixabank branch ATM machine displaying logos of both Caixabank and Bankia banks in Madrid, Spain, November 10, 2021. REUTERS/Susana Vera
Caixabank Q4 profit hit by lending income slide
MADRID, Jan 28 (Reuters) – Lower lending income contributed to a 52% drop in net recurring profit at Spain's Caixabank (CABK.MC) in the fourth quarter, along with the impact of lower one-off gains.
Spain's largest domestic lender which last year closed a 4.3 billion euro defensive acquisition of Bankia, posted underlying profit, excluding extraordinary items, of 337 million euros ($376 million) in the October to December period.
That compared with a profit of 705 million euros a year ago, when combining Bankia's business on a pro forma basis.
European banks are under growing pressure to cut costs, either on their own or through tie-ups, as they face ultra low interest rates and the impact of the COVID-19 pandemic.
Caixabank's 2021 net profit rose to 5.23 billion euros thanks to some 4.3 billion euros of "bad will" – a paper profit made when an asset is bought below its book value – on the Bankia purchases and charges of 1.4 billion euros which were mainly related to layoff costs.
Analysts had expected net profit of 5.25 billion euros.
In the fourth quarter of 2020, Caixabank had booked more than 400 million euros in capital gains from the sale of a minority stake in a payments unit.
The accounting net profit in the quarter fell 35% to 425 million euros compared to a 433 million euros expected by analysts polled by Reuters. Net profit in the same quarter last year, without Bankia, stood at 655 million euros.
Shares in Caixabank fell 2% compared to a 0.2% decline in Spain's blue-chip index Ibex-35 (.IBEX), with Jefferies highlighting the lower lending income, which was partially offset by a strong performance in fees.
"Focus likely to be on another quarter of weaker NII though revenues were actually 5% ahead thanks to stronger fee & trading income," Jefferies said in a note to clients.
In an ultra low interest rate environment, net interest income, or earnings on loans minus deposit costs, in the fourth quarter fell 10.9% on a pro forma basis to 1.56 billion euros, in line with estimates from analysts.
To offset this impact, banks are looking for other areas of growth such as commission fees or insurance income. At Caixabank, net fees in the quarter rose 10.8% year-on-year.
The bank also said it aimed for a dividend cash pay-out policy of between 50-60% of 2022 consolidated earnings.
In 2021, Caixabank's pay-out stood at 50%, allowing it to return more than 1.1 billion euros to shareholders.
It also said its intends to implement an open-market share buy-back programme during the 2022 fiscal year.
($1 = 0.8967 euros)
Reporting by Jesús Aguado; Editing by Inti Landauro and Alexander Smith
Source: https://www.reuters.com/world/europe/caixabanks-q4-recurrent-net-profit-down-522-yy-lower-one-off-gains-2022-01-28/