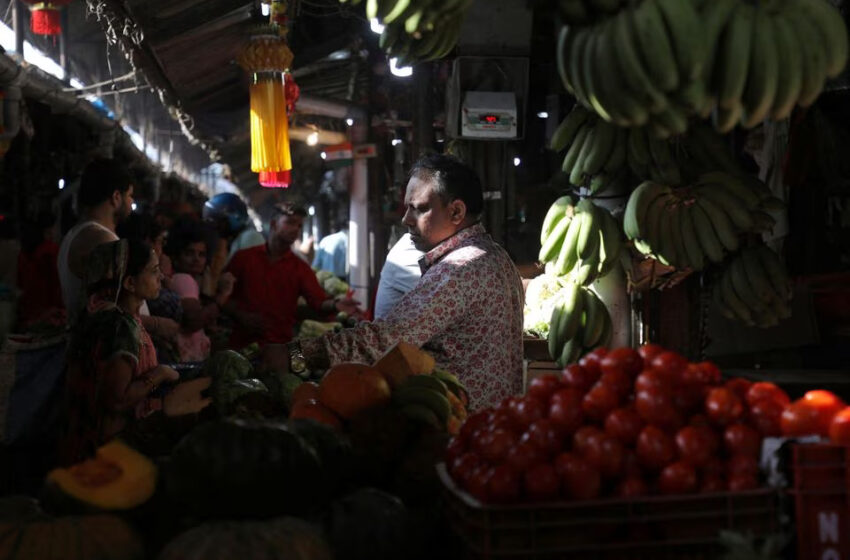 A fruit vendor tends to customers at a fruit and vegetable wholesale market in Mumbai, India, February 8, 2023. REUTERS/Niharika Kulkarni
India's retail inflation breaches RBI's tolerance level first time since October
Feb 13 (Reuters) – India's annual retail inflation in January rose above the central bank's upper threshold for the first time in three months, on higher food prices, vindicating last week's hawkish monetary policy stance.
India's annual retail inflation rate rose to 6.52% in January from 5.72% in December, government data showed on Monday.
January's retail inflation was above the Reserve Bank of India's upper targeted limit of 6% for the first time since October and much higher than the 5.9% estimate, according to a Reuters poll of 44 analysts.
"Clearly, the moderation in inflation in the previous two months was not broad based and not durable signalling we are not out of the woods yet," said Sakshi Gupta, economist at HDFC Bank.
Food price inflation, which accounts for nearly 40% of the consumer price index (CPI) basket, rose to 5.94% in January from 4.19% in December. The prices of cereals and milk continued to increase.
Prices of cereals rose more than 16% year-on-year, milk rose 8.8% and eggs rose by 8.8% from last year, even as prices of vegetables fell 11.7%.
Last week, the Reserve Bank of India (RBI) hiked its key repo rate by a quarter percentage point and surprised markets by leaving the door open to more tightening, saying core inflation remained high.
The likelihood of more rate hikes, which had diminished after two previous inflation prints of below 6%, has now increased as the latest figure confirms the RBI's fear, economists said.
"The unexpectedly large jump in headline consumer price inflation in January to 6.5% y/y is a clear challenge to our view that the hiking cycle is at an end," Shilan Shah of Capital Economics said.
STICKY CORE INFLATION
India's core inflation in January was nearly flat at 6.09% to 6.10% from last month, according to two economists.
"We expect core inflation to remain elevated in Feb-March given the ongoing pass-through of higher input costs by producers," said Aditi Nayar, chief economist at ICRA.
Household goods prices rose 6.2%, health and personal care products have registered high inflation of above 6%, Madan Sabnavis, economist at Bank of Baroda, said.
Some economists now expect inflation to remain above RBI's upper tolerance band of 2%-6% for the next two months, forcing the central bank to continue its aggressive tightening cycle, hurting economic growth that had started to take root.
India's Economic Survey forecast economic growth of 6% to 6.8% in the 2023/24 fiscal year, slowing from the 7% growth projected for the current year ending on March 31.
Additonal reporting by Rama Venkat and Nishit Navin in Bengaluru; Graphics by Riddhima Talwani; Editing by Chizu Nomiyama, Kirsten Donovan