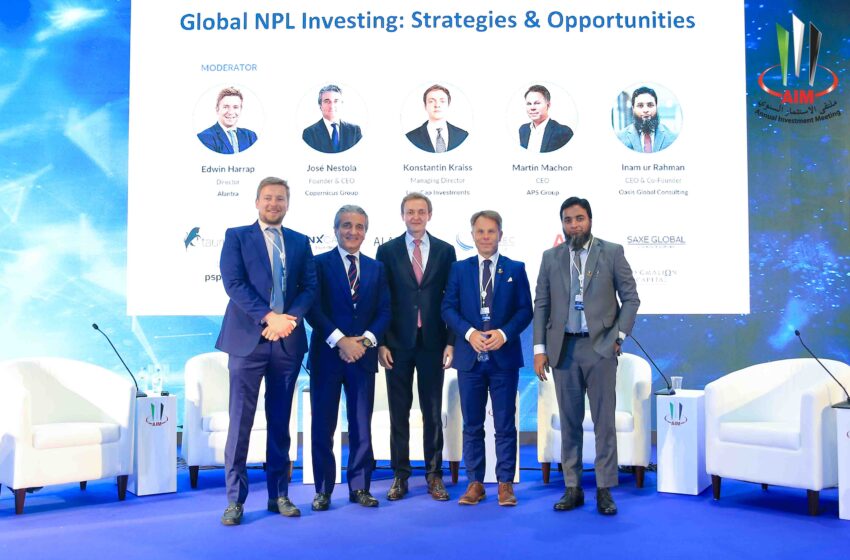 Green Entrepreneurship: A Key Driver for Competitiveness and Sustainability Highlighted at the Annual Investment Meeting's Entrepreneurs Investment Summit
Abu Dhabi, UAE, 9 May 2023 The Entrepreneurs Investment Summit opened its doors to industry leaders and experts from around the world to discuss new strategies and opportunities for investment. Held at the 12th edition of the The Annual Investment Meeting (AIM), which took place at the Entrepreneurs Room located at the Abu Dhabi National Exhibition Centre, The Summit witnessed a range of distinguished speakers who shared their thoughts and insights on the subject.
The forum commenced with opening remarks from Dr. Hashim Hussien– Executive Director World Entrepreneurs Investment Forum. He said, "This summit marks a new beginning for the Interpreters Forum Secretariat, with more focused events that aim to create an optimal platform for entrepreneurs to connect with major investors, experts, and unicorns. We are focusing on Arab and African entrepreneurs, but we have also invited entrepreneurs from all over the world to share their experiences and build more resilient enterprises.
Over the next three days, we will hear from 55 speakers from 23 countries, representing Europe, Asia, Africa, Latin America, and of course, the Arab region. We will be discussing issues that challenge entrepreneurs and economic development worldwide, as well as the ecosystems regionally and internationally. Thank you for coming together to invest, network, and share experiences, and I hope you have a successful and enjoyable summit.
In addition, H.E. Dr. Khaled Hanafy– Secretary General – Union of Arab Chambers said, "This event, the Entrepreneur Investment Summit, is a crucial platform for addressing the challenges and opportunities that exist in the Arab world. However, before we delve into these issues, let me shed light on some of the Givens or facts that characterize the Arab world.
To begin with, the 22 Arab countries are not homogeneous. Each country has its unique mix of factors of production, including labor force, which makes it challenging to generalize about the region. Secondly, around 88% of the Arab world's population has access to the Internet, and 94% own mobile devices. Thirdly, poverty is a prevalent issue in the region, with around 40% of the population living below the poverty line. Of this percentage, 50% are youth aged between 18 and 30. When it comes to entrepreneurship, while there is a significant number of small and medium enterprises (SMEs) in the Arab world, only 1.3% of them are startups, which is a considerably low rate. Given these Givens, it is imperative that we consider how to address these challenges.
As the Union of Arab Chambers, we are organizing this summit to represent the private sector in the Arab countries. The private sector accounts for almost 70-75% of the GDP and employment in the region and is a leader in growth and development. Thus, we aim to emphasize that the private sector cares deeply about entrepreneurship and investment in SMEs. We understand that there are bugs and problems in some Arab economies, but we also believe that there is potential in every Arab country."
H.E. Dr Ali Saeed Bin Harmal Al Dhaheri – First Vice Chairman- Abu Dhabi Chamber of Commerce & Industry said, "As part of the annual investment meeting 2023, we are excited to welcome you to the Arab African Entrepreneurs Summit. Over two days, this summit will showcase bankable investment opportunities led by intrapreneurs, SMEs, and micro-investments from African and Arab regions. It will provide a platform for sharing best practices to stimulate joint investment opportunities between Africa and the region, contributing to African economic integration. The Abu Dhabi Chamber's new strategy spanning 2023-2025 aims to drive economic cooperation and create business opportunities for the private sector, locally, regionally, and internationally. Our participation in this event aligns with our commitment to support policies, adaptive innovation, and digital transformation to build a knowledge-based economy.
Continental African trade is estimated to be $80 billion US dollars in 2041, according to the African African bank. Plans are underway to strengthen trade exchange between Africa and the Arab region, with initiatives such as the Arab Africa guarantee fund and Cairo's plan to increase exports to Africa to $10 billion US dollars by 2025. The UAE has emerged as one of the largest investors in Africa among the GCC states, with the Abu Dhabi Fund for Development financing more than 66 projects and 28 African countries valued at $16.6 billion US dollars between January 2016 and July 2021. The African entrepreneurs summit will build on these initiatives by creating solid partnerships between SMEs and entrepreneurs in Africa and our region."
Following the opening remarks, 'The Entrepreneurs Investment Summit' commenced. This was marked by the presence of several distinguished guests, including HE Dr. Ahmed Abu El Gheit, Secretary General of the League of Arab States, HE Dr. Haidara Fatou, Deputy Director General and Managing Director of the Directorate of Global Partnerships and External Relations, and Director General's Special Representative for Africa, H.E. Sameer Abdulla Nass, President of the Union of Arab Chambers.
H.E. Dr. Ahmed Abu El Gheit – Secretary General League of Arab States said, "We are working collaboratively towards a historic milestone for entrepreneurs, with a strong focus on community development and creating opportunities to support SMEs that can drive economic growth and increase investment opportunities. The introduction of digital techniques has made it easier for investors to take an interest in these opportunities. The Arab world recognizes the importance of transitioning towards shared opportunities between the private and public sectors, and empowering local industries to prepare for economic growth, employment, and the best interests of the region."
H.E. Dr. Haidara Fatou – Deputy General and Managing Director, Directorate of Global Partnerships and external relations, and Director General's Special Representative for Africa, said "The need to achieve Sustainable Development Goals (SDGs) has become more urgent, and investment opportunities have arisen at a critical time for the community. It is essential to address global challenges, create jobs, and drive economic growth. Several nations are experiencing a decline in the number of start-up businesses, and many young people are unable to find employment after leaving school. This makes it crucial to invest in youth to ensure future generations can thrive."
H.E. Sameer Abdulla Nass – President at – Union of Arab Chambers said, "I would like to highlight the Arab Chamber's efforts to increase trade and investment among Arab countries. Unfortunately, the current level of trade, which is only 50% among 22 countries, falls short of our expectations. Therefore, we need to focus on creating recommendations and bylaws to enhance trade relations among union countries. Entrepreneurship has always been a crucial concept in our region, and we need to emphasize its importance. We must support the digital economy and entrepreneurship to secure a better future for upcoming generations and build a strong trading network between Africa and the Arab region. It is imperative to establish better links between SMEs in Africa and Arab regions to overcome any challenges and create new opportunities. Through this summit, we hope to provide a platform that facilitates trade and generates recommendations to strengthen these links."
The summit also hosted several panels, with experts sharing their insights on topics such as 'Supporting Green Entrepreneurship: Greening SMEs for more Competitiveness and Sustainability – Opportunities for SMEs in a greener value chain'. Speakers for this panel included Rasmus Wiinstedt Tscherning, Managing director, Creative Business Network, Denmark:, Douja Ben Mahmoud Gharbi, CEO RedStart Tunisia Accelerator and President DAMYA Angels, Dr. Ahmed Nasser, Green Hub, Osama Rais, Head of the Entrepreneurship Unit and Digital Transformation Expert, Arab Organization for Agricultural Development and Hatem Mohammad AbouOllo, Founder of Saber Incubators & Accelerators.
Rasmus Wiinstedt Tscherning – welcomed the participants and the panellists for this session. The pane started with key remarks by Douja Ben Mahmoud Gharbi who said, "It is important to provide support to women entrepreneurs because they have a significant role to play in identifying successful business opportunities. Climate change, pollution, and waste management are real-world problems that require innovative solutions. As we face these challenges, we need entrepreneurs who can introduce new business models, technology, and innovations that can be connected with large corporations that are responsible for impacting our environment and social well-being. Therefore, it is crucial to work on promoting the green economy as it will have a transversal impact on all the other sectors of the business ecosystem."
Dr. Ahmed Nassersaid, "Our expertise lies in digital and western transformation, which emphasizes scalability and autonomy. To achieve digital transformation, it's crucial to understand that it can apply to communities, villages, and different business sectors. The key is to use suitable technologies to transform businesses, and proper training and education are essential for a successful transformation. We have developed solutions such as virtual reality and augmented reality for training and self-learning. Digital transformation can have a significant impact on businesses, including cost savings and more efficient supply chains. Our company is also working on a new platform to support startups with an easy-to-use and cost-effective solution. We believe that digital transformation will play a crucial role in promoting a green economy, but we also need professional criteria for growth and secure platforms to manage businesses. We aim to support more startups in the future."
Osama Rais said, "Our focus is on bringing innovative solutions to drive the shift towards agricultural waste reduction and clean energy in greenhouses. We aim to do this while maintaining our commitment to the planet's decarbonization and overall health. To achieve this goal, we believe in the importance of changing the mindset of the youth to direct their organizational efforts towards personal development and purposeful work. Digital transformation is key to all our efforts, from planning and analyzing data to achieving a global picture of food security and developing effective logistics policies. We believe that by bringing together innovative solutions and cutting-edge technology, we can drive progress towards a greener, more sustainable future."
Hatem Mohammad Abou Ollo said, "We specialize in city branding and revitalization and have a website, but there are also startups that invest in businesses oriented towards quality of life. Our focus is on high-tech, fast-growing businesses, and we've studied the 15 best practices worldwide to create our framework for city branding and revitalization. As part of this framework, we emphasize smart city solutions, not just in terms of infrastructure and facilities, but also in terms of activation and programming.
To encourage visitors, residents, and local economy players to contribute to the environment, we launched a crowdsourcing platform where people can plant trees. Companies that we work with also use this platform to offset their carbon footprint. When it comes to consumers, our objective is different. Instead of traditional gifts like flowers or chocolates, we promote the idea of sharing gifts that are healthy and sustainable, like a tree planted on a special occasion or milestone in someone's life. For example, a new parent might receive a tree to plant when they have a baby, or a company might give a biogas plant to an employee as a gift. We aim to align consumer psychology with smart technology through our crowdsourcing platform."
In addition, a special session on 'Fostering International Partnerships Energy and Environment – Call for High Impact Cleantech', by UNIDO ITPO Italy was conducted. Key panellists as Phillip Sellwe, Managing Director Bayon Holdings, Botswana, Samuel Okioro, Co-founder Drop Access, Kenya and Roger Mori Pizzino, CEO Ciclo, Peru discussed their expert insights. The session aimed to promote international collaboration and partnerships for the development and implementation of clean and smart energy technologies.
Phillip Sellwe, pointed out that international partnerships face common obstacles such as cultural differences, intellectual property protection issues, time zones, legal and regulatory framework. He emphasized the need for clear and mutual goals transparency as well as respect for cultural differences to overcome or manage these obstacles. He cited successful collaborations in clean tech products between Tesla and Panasonic, and General Electric and Perceiver as examples, and encourages working together to achieve clean tech goals.
Samuel Okioro – said that his companyaimed to provide real-time access to cell-based and other grains, reduce post-harvest loss of fresh food both on the farm and the household by manufacturing coal preaches that utilize solar energy solar power. Roger Mori Pizzino highlighted the importance of the structure of buildings as they are responsible for 39% of the planet's greenhouse gases. He explained that his startup aims to increase the sustainability indicators for construction companies by making eco-materials from recycling construction and demolition waste. Their solution is based on two value propositions: construction companies pay them for their waste, and they turn it into equal materials that they finally sell back to the same construction market.
Next in line wsa a Special Initiative by UNIDO Global on 'Clean and Smart Energy for Inclusive and Sustainable Industrial Development, spearheaded by Mr. Wu Yabin, Head UNIDO ITPO Beijing was conducted. He said, "Global Call Containment, is an event that identifies and promotes innovative energy solutions for sustainable development. This year's theme is clean, smart energy, with three main tracks: green hydrogen, energy efficiency, and clean energy innovation. The event is open to all, including multinationals, SMEs, and startups, and participants receive benefits like matchmaking with financial institutions, coaching, and technical support. The Global Call is a successful institutional partnership among ITPO offices and external partners, and follow-up actions will help award winners penetrate industry sectors."
Another highlight was a panel discussion on 'Improving SMEs Access to Finance: Finding Innovative Solutions to Unlock Sources of Capital in MENA Region and the African Continent'. This panel discussed the barriers to finance in 2022/2023, and the tools for improving access to finance and unlocking sources of capital for SMEs.
It featured speakers as Reem Badran, Founder MENA Business Women Network Panelists, Dr. Wissam Fattouh, Secretary General Union of Arab Banks (TBC), Pauline Koelbl, Founder/Managing Partner – ShEquity's, Baybars Altuntas, Chairman, World Business Angels Investment Forum, Michel Fossaert, Board Member – World Union of SMEs, Mohamed Hreimou, Executive Manager – Emirati Entrepreneurs Association, and Ali Muqaibal, Chief Executive Officer, Sharakah – Oman.
Reem Badran said, "SMEs in our region represent a significant potential for economic growth and job creation, but two major obstacles are preventing them from reaching their potential: operating in the informal sector and lack of access to finance. The finance gap for MSMEs in our region is significant, with many SMEs not obtaining sufficient bank lending. The traditional lending method is proving insufficient, so FinTech platforms can be leveraged to reduce barriers to SMEs' access to finance. Banks must change their way of thinking regarding SMEs, or FinTech start-ups will take a significant share of the market. In the West, big banks are already acquiring and absorbing FinTech start-ups to facilitate lending for segments that cannot be served using traditional lending mechanisms."
Pauline Koelbl said, "Investing in African women is not just charity, but a proven way to achieve sustainable development goals. McKinsey reports show it can add to African GDP by 2025. Rather than just microfinance, an ecosystem approach combining cash investment and VC investment can stimulate growth and impact sectors. Women's innovative solutions can address challenges faced by people on the continent. To build a sustainable world, we must invest in women and put money on the table.
Baybars Altunas explained that access to finance is a common concern for capital and equity markets, but it's important to differentiate between startups and SMEs. SME owners typically focus on growing their business with no exit strategy, while startups have an exit strategy in mind and aim to turn their business into a success story within five to seven years. Access to finance sources for entrepreneurs today include ICO, IPO, crowdfunding, angel investors, and more. However, small businesses need more than finance to compete globally, and angel investors can offer mentorship and networking opportunities. The COVID pandemic accelerated the growth of the startup economy, with traditional business owners now investing in startups to stay competitive in the digital age.
On the other hand, Michel Fossaert highlighted that 50% of SMEs lack access to finance, and with economic challenges in some countries, it will become more difficult for them to obtain loans from banks. He suggests innovation is needed in cooperation with banks, and proposes a mix of donor guarantees and private investment as a solution for SMEs to access loans and equity. He focuses on the agricultural sector in Africa as an opportunity for growth and job creation.
Mohamed Hreimou leads the Emirati Emerging Entrepreneurs Association, which connects MSMEs with government bodies to improve local content and increase in-country value. They focus on building capabilities through training and expanding opportunities for entrepreneurs to access finance. One issue they've identified is the lack of a unified database for categorizing companies, which they are working on to help financing institutions better understand which companies are eligible for funding.
Ali Muqaibal explained that their organization supports various pillars of the ecosystem, with access to finance being a key focus for entrepreneurs and SMEs due to collateral requirements and poor credit reporting. They offer different types of financing, including venture capital, and work with regulators to increase additionality in the ecosystem. One initiative they have undertaken is creating credit goals with a central bank to provide ratings for SMEs and establish a credit guarantee agency to incentivize more companies to access funds. They are also investing in crowdfunding and advising local platforms on the business model and regulatory procedures. Overall, their goal is to help more companies gain access to finance and elevate the ecosystem.
Reem concluded the session by asking the panel's thoughts on how to bridge the gap and who would be best for funding i.e Government, donors, NGO, etc. Dr. Wissam shared his thoughts initially by stating that the government should present and finance SMEs to bridge the gap at least partially.
According to experts, SMEs represent 90% of the businesses and more than 50% of employment worldwide and contribute to up to 40% of national income GDP in emerging economies, making it very important to think about new sources of capital for SMEs. However, many SMEs in the MENA region and African continent face significant barriers in accessing formal credit and financing. This panel explored innovative solutions and tools that can be used to improve SMEs' access to finance and unlocked sources of capital, enabling them to grow, create jobs, and drive economic development.