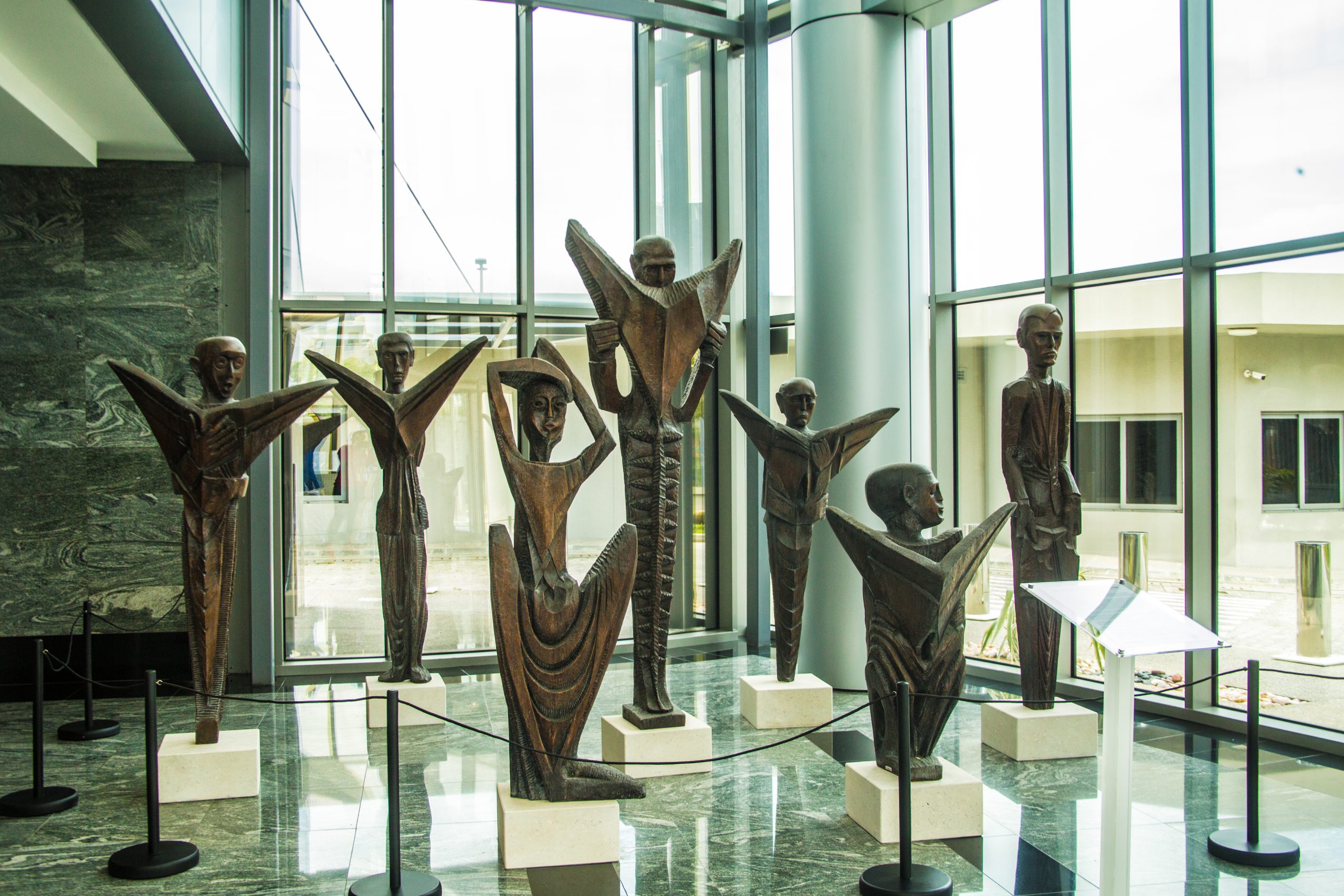 WORLD ECONOMIC MAGAZINE INTERVIEWS DR. HERBERT WIGWE (GROUP MD & CEO) OF ACCESS BANK PLC.
Access Bank began its banking journey on December 19, 1988, and became a
privately held commercial bank on February 8, 1989. Access Bank opened its
doors on Burma Road in Apapa on May 11, 1989. Access Bank Plc. has grown
into a world-class African financial institution over the last 26 years. It is now
one of Nigeria's top five banks in terms of assets, loans, deposits, and branch
network, an achievement made possible by a long-term commitment to client
solutions – delivering committed and innovative advice.

World Economic Magazine interviews Dr. Herbert Wigwe, CEO of Access
Bank Plc, as the bank obtains three important awards for its wonderful services
and Dr. Herbert Wigwe's outstanding leadership characteristics. Throughout the
conversation, Dr. Herbert Wigwe Choy expresses his delight. Let's have a look
at the following discussion:
Dr. Herbert Wigwe, congratulations on winning three of the most prestigious awards: Best Digital Bank Nigeria 2021, Most Sustainable Green Bank Nigeria 2021, and Best Banking CEO Nigeria 2021. What are your thoughts on it?
Thank you very much. I am incredibly proud of what we have achieved this year. I would say one of the things that has helped us consolidate our leadership position is staying true to our goal of becoming the most sustainable, innovative and respected African Bank.
Riding on this vision, we have constantly explored new ways of placing technological innovation at the heart of our workflow and customer satisfaction processes. This is the motivation behind some of our most successful digital initiatives, including AccessMore, Facepay and our digital accelerator, the Africa Fintech Foundry.
Our vision also emphasises sustainable wealth creation, promotion of human dignity, environmental conservation, and improving the quality of human lives.
While we didn't start out seeking awards, it is definitely encouraging to be recognized for the work we have put in over the years. This is a testament to not only my stewardship, but more importantly, the unique and tireless contributions of every member of the phenomenal Access Bank Team.
Do you believe it is necessary for a CEO to be a good leader in order to achieve ultimate success?
Everything rises and falls on leadership. Every phenomenal achievement and laudable milestone attained in any organisation can be attributed to the team's efforts but primarily to the directives given by its leaders. No matter how great a team is, there will be little to no progress without visionary leadership. So, in my opinion, a CEO being a good leader is an absolute necessity.
Access Bank Group has always been committed to financing and aiding a sustainable future through banking development and environmental initiatives. Could you tell us about one of your recent sustainability initiatives?
Despite the environmental and health implications of cooking with firewood, with about 93,000 annual deaths related to smoke inhalation from household pollution caused by firewood smoke (per data from The International Centre for Energy, Environment, and Development), millions of Nigerian households still employ the use of this cooking method. Recognizing the opportunities for change in the drive to achieve a healthier planet, Access Bank collaborated with SME Funds to implement the 'Green Social Entrepreneurship Program.
The program, which focused on empowering entrepreneurs with clean cooking stove technology, made it economically feasible to convert waste-based biomass to bio-fuel. The Clean Stoves make use of Bio Gels, which are made from water hyacinth, biocremol, caustic soda, fragrance, and chlorophyll.
This initiative saw the Bank empower 238 entrepreneurs (70% of whom were women) and provide easy access to start-up capital, thereby lifting individuals in under-served communities out of poverty whilst striving to curb some of the contributing factors of climate change. The empowered individuals have thus far reported returns of over N15.7mn through the production and distribution of over 7,500 liters of bio-gel. Additionally, 598 households and about 2,100 beneficiaries have been able to access low-cost cooking fuel and stoves, leading to the displacement of 287MtCO2.
Being named the best digital bank is a true accomplishment. With which systems does your digital banking connect? What was the most recent digital project to be implemented?
Our most recent digital product is Access X, which we launched in July this year. Access X is a one-stop technology hub that provides a mix of product information and lifestyle offerings. The hub handles login challenges; problems with pin issuance; limit maintenance; channels set up and onboarding; device compatibility; and OTP generation. Customers can also get a speedy resolution to all debit card or ATM issues.
An exciting and unique feature of Access X is that customers can solve instant account issues, open a bank account amongst other services while on a video call with the Contact Centre agent.
Is Your Digital Branch a True Reflection of Your Brand?
Yes, it is. Access Bank has invested heavily in leading technological evolution in the African banking sector. As a customer-centric brand, we work to ensure that customers enjoy secure, seamless and convenient services across all of our channels.
The Access Bank Group ventured on a capital raising exercise in July 2007, in acknowledgement of the role of a stronger financial performance. Could you tell us more about it and how it helped the Bank?
In July 2007, we started to recognise some of the immense benefits of an enhanced capital structure, for example, access to liquidity in the interbank market. The public offer at the time included an Over-The-Counter GDR placement of US$250 million, which was oversubscribed by 700%.
The entire exercise was a tremendous success recording an oversubscription of over 300%. Today, our shareholders' fund stands at over N240 billion with an expanded shareholder base of over 1,000,000 domestic and foreign investors.
In 2019, the Access Bank Group unveiled a new and improved brand that combined the best of Diamond Bank and Access Bank. Could you provide more information about the initiative?
Nigerian banks have grown over the years to the point where they can compete favorably with their international counterparts because of capital injection. In line with our 5-year drive to be positioned as Africa's Gateway to the World, we sought to first create a strong, diversified institution with sufficient capital to support that growth in line with international best practices.
The merger allowed us to combine Access Bank's treasury, risk management expertise and robust corporate banking portfolio with the excellent and unparalleled retail and digital franchise of Diamond Bank. Also worth mentioning is that Diamond Bank's products were in line with our goal to drive financial inclusion for Nigeria's most vulnerable population.
The merger instantaneously made Access Bank the largest retail bank in Sub-Saharan Africa by customer base. Furthermore, it enabled us to expand our branch network, ensuring that all the target groups within the value chain were adequately served.
Only multiple management teams can create a strong system. Do you believe it is true to form different management groups to ensure that work runs smoothly?
Different strategies work for different organisations. For smaller organisations, multiple management groups might make them less productive. However, if you run an organisation as large and as complex as Access Bank, management groups will prove to be an outright necessity. Any organisation that wishes to establish a strong global presence must delegate authority, but more importantly, such an organisation must establish a clear chain of command in every outlet.
Finally, could you tell us about Access Bank Group's long-term objectives.
We will grow our businesses and continue to invest in IT capacity until we become an incredibly strong enterprise for retail and wholesale customers around the world, achieving our vision to be Africa's payment Gateway to the World.
Several opportunities exist within the markets in which we operate, and to maximize them, Access Bank will adopt a holding company structure that will harness the potential in the regulated consumer lending market, electronic payments landscape and retail insurance market.