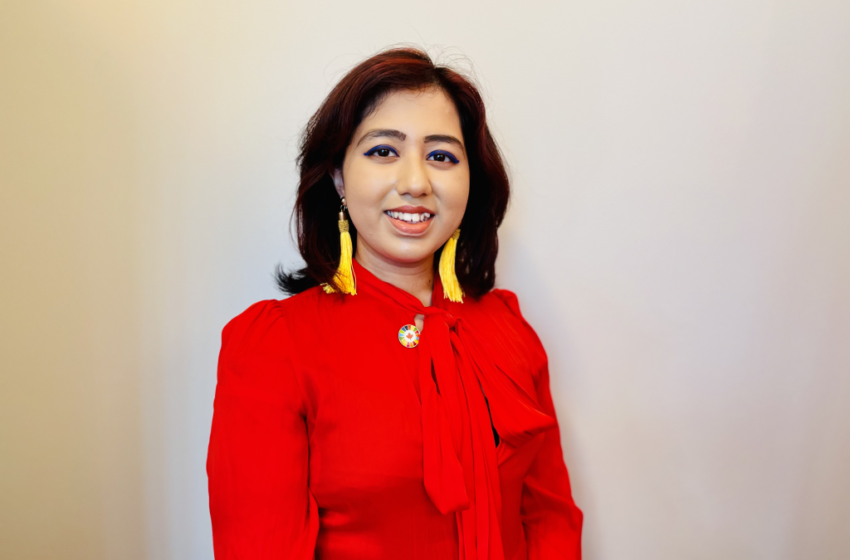 "We do not do charity – instead we provide communities with the tools and skill" – Kehkashan Basu the founder of The Green Hope Foundation!
In this age of advancement in all major industries, the game of sustainability has become faint somewhere among the crowd. A lot of attention is required to achieve a chaotic-free environment with a healthy environment, fresh air, clean air, economic stability, and an overall sustainable environment. With their one-of-a-kind means of disseminating the news to the rest of the world, the Green Hope Foundation has stepped in to save the entire planet. Let's have a look at what Kehkashan Basu has to say about taking the initiative to fix environmental challenges in the long run.
Heartfelt congratulations on such a benevolent initiative. What prompted the formation of the Green Hope Foundation?
In 2012, I was invited to speak at Rio+20 in Brazil whereas a 12-year-old I was the youngest international delegate at this momentous summit on sustainable development, where 50, 000 delegates – indeed the world's who's who – had gathered to chart the future of our planet. I found it ironic that it was our future – that of children and youth like me – that was being discussed, but by adults, many of whom would not live through that future. I was aghast at this lack of engagement of young people and on my return from Rio+20 established Green Hope Foundation, to provide children and youth a platform that would build their awareness and provide them with the tools to lead substantive action in the sustainable development process, both locally and globally.
Could you explain why particular regions and people are being disproportionately impacted by climate change and biodiversity loss?
Climate change is an inequality multiplier and exacerbates vulnerabilities. Its impacts are, therefore, unequal because different regions and communities have different levels of resilience to it. The variations in the natural topography, too, play a role in this regard. For example, coastal communities are at extreme risk from rising sea levels and storm surges, which are a direct manifestation of global warming and climate change. The developed countries have, for centuries, exploited the natural resources of the global south, with scant regard for the local environment and of the people who depend on them for their survival. This protracted loss of biodiversity, loss of forest cover, land degradation, and pollution of the water table, alters the climate pattern, making them more susceptible to droughts, floods, landslides et al. Depletion of their natural resources that were once the source of their livelihoods, drives them towards poverty and makes them even more vulnerable to climate change impacts, whose severity increases over time.
Providing assistance alone will not result in a positive change in society, but fostering information and creating opportunities in that particular direction would. Tell us about the Green Hope Foundation's educational initiatives.
Our mission is based on empowering vulnerable communities with education. We do not do charity – instead, we provide communities with the tools and skillsets that reduce their vulnerability, thereby ensuring that they no longer need charity. Green Hope Foundation works with some of the world's most marginalized communities – Syrian and Rohingya refugees, children of prisoners in Nepal and Kenya, forest-dependent communities in the Sunderbans, indigenous and rural communities in Suriname, Liberia as well as in coastal and forest dependant regions impacted by biodiversity loss. A majority of young people, especially girls, in these regions have never been to school. A lack of education is the biggest hurdle in their progress and using ESD (Education for Sustainable Development) as a transformative tool, we provide them with the skills, knowledge, and behaviors to lead change in their communities. COVID19 has permanently thrown millions of young people out of the education system in LDCs( Least Developed Countries), such as Bangladesh and Liberia, especially in rural areas. Using clean energy innovation, we have resumed education in schools that are now powered by solar grids. We have launched a "Mobile Library Project" that operates on solar power and takes the library to the doorstep of children living in remote regions. This project will educate over 250,000 out-of-school children in Liberia, India, and Bangladesh.
Even in developed nations, environmental education is sadly missing from school curriculums. To fill this void, Green Hope Foundation regularly works with school boards in multiple countries, engaging children and youth, from primary level to universities, through our "Environment Academies" a unique tool that uses Art, Music, Dance, Sport, Drama as well as STEM learning to build awareness amongst students about the various environmental and sustainability issues. In my home base Toronto, Green Hope Foundation is an Environmental Education partner to the TDSB ( Toronto District School Board), Canada's largest with over 250,000 students in 600 schools. In Suriname, we partner with their Youth Parliament to educate and lead their youth in conservation programs that help maintain Suriname's position as the most forested country in the world.
Now that the entire globe is seeking to implement sustainable development measures, please tell us how Green Hope Foundation is leaving its imprints as it makes a distinctive contribution to the cause.
Green Hope Foundation ( GHF) has been involved in the sustainable development process since Rio+20, wherein the "Future We Want" document was adopted, which led to the adoption of the Sustainable Development Goals at the UN General Session in 2015. I was one of the 193 youth, each representing a member state, at the adoption event in New York. Our engagement in the sustainable development process is, therefore, both at a grassroots level as well as in policymaking. Our work facilitates the "localization" of the SDGs and serves as a bridge between theoretical policies and practical needs at a ground level. The SDGs are all interlinked and the Goals cannot be achieved in isolation. The issues that we focus on are  Climate Justice, Social Upliftment, Land Degradation, Clean Water & Sanitation, Sustainable Consumption and Production, Peace and Nuclear Disarmament, Gender Equality, Biodiversity Conservation, Clean Energy, Future Justice, and rebuilding better through the creation of local circular economies. The SDGs are all interlinked and the Goals cannot be achieved in isolation. Our approach, therefore, is not silo-based. Rather it approaches the challenges holistically, from a people and planet lens, that makes our programs especially impactful.   
Please describe why you chose the genres such as art, dance, and music and give an example of how Green Hope Foundation is effectively using these different instruments to achieve its goals.
Global warming, carbon footprint, biodiversity loss, gender inequality,  sustainability – these are difficult concepts for children to understand, especially as a majority of the youth whom we engage have never been to school. Since our work is global, there are additional dimensions of language and social structures, particularly for girls and women. To circumvent these issues, we use innovative, non-formal communication modes in our advocacy – such as Art, Dance, Music, Sport, and Drama – to spread awareness. These modes of communication improve engagement, makes it easier for them to grasp and relate to these concepts, and leverage their innate creativity in developing localized solutions.
The Green Hope Foundation addressed STEM education as well as the 17 Sustainable Development Goals. Could you please describe what those objectives are?
The 17 SDGs have provided us with a comprehensive and viable blueprint in addressing the challenges facing our world today. They address the 5Ps – People, Planet, Prosperity, Partnerships, and Peace, that are critical pillars of progress. As mentioned previously, the SDGs are interlinked and one needs to address them based on a 21st-century mindset, harnessing current science and technology to achieve the greatest impact.
By incorporating STEM learning in our programs, we leverage modern-day knowledge in the localization of the Goals. In our world today, digital dividends co-exist with digital divides. STEM learning provides communities that are on the dark side of the web with the tools that lead to their empowerment.
Do you believe Covid-19 was incredibly challenging for everyone, yet it healed the Environment? What is your opinion on the subject?
COVID19 continues to be the greatest crisis in our living memory, adversely impacting every region and country. During the early days of the lockdown, we witnessed a significant lowering of emission levels, with clearer skies, reduced smog, wildlife sightings in cities that gave the world a glimpse of what is possible. However, this was momentary. Since then, many countries seem to be emitting with a vengeance, abandoning all caution and aggressively pursuing progress at the cost of the environment. Lockdowns are not a solution to the problem. But we cannot pursue economic progress by exploiting and desecrating our environment. There are several pathways available to us – the foremost being the accelerated transition to clean energy. We must invest heavily in this transition and support developing countries that do not possess the technology, finance, and infrastructure to move away from fossil fuels. The rich and developed nations must take responsibility instead of sermonising the global south.
Nuclear disarmament, future justice, and social upliftment are among the issues addressed by the Green Hope Foundation. Do you think economic stability is a realistic solution to these issues, and what are your ideas on the topic?
Economic stability is just one of the pillars of progress. We need to achieve this progress while maintaining the social and environmental equilibrium, which is not the case currently. That is why we are witnessing extreme levels of inequality across all societies, wherein the gap between the haves and the have-nots continues to widen. In an age when millions still die of hunger, when nations do not possess even the basic medical infrastructure, it's irrational for these countries to profligately spend billions of dollars on building nuclear arsenals and weapons of mass destruction. These are touted as symbols of economic prowess, whereas in reality, they are inequality accelerators. We, therefore, need to address these issues from the lens of sustainability, which is based on the three pillars of the economy, society, and the environment
What are the Green Hope Foundation's future plans to evolve as a youth-led global innovation enterprise while dealing with sustainability challenges of climate change, gender inequality, land degradation, etc?
With almost a decade of experience under our belts, Green Hope Foundation is setting its sights on expanding our impact to more regions and communities, that continue to unequally suffer from environmental degradation. At the same time, we provide a platform that amplifies "ignored" voices at the highest levels of policymaking. Green Hope Foundation has now received "special observer status" to the United Nations Economic and Social Council. We are already an accredited yo organization to the United Nations Environment Programme and UNCCD. Over the next two years, we will expand our work in COVID impacted communities, so that we are able to elevate thousands more out of poverty and exploitation. We currently operate in 25 countries and plan to double our outreach in the next 5 years.
 Finally, is there anything you'd like to suggest to future generations for the improvement of the entire globe?
When I established Green Hope Foundation a12-year-old old with a few friends, I never dreamt that in such a short span of time it would evolve into a global social innovation enterprise, that positively impacts the lives of thousands of people across continents. I have faced numerous challenges, ranging from cyberbullying, stalking, threats of physical violence, and also resource constraints. But nothing has deterred me from pursuing my passion. I believe that every young person has the innate ability to make a difference, in the same manner as me. We must introspect and leverage this ability for social good. As residents of this planet, each one of us bears a responsibility towards it. Climate change and biodiversity loss are not someone else's problems. Each one of us is accountable, especially the youth, because our future survival is at stake.