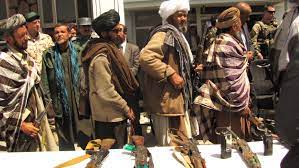 The Afghan economy appears – a topic of concern!
The day after the Taliban took up residence in Kabul's presidential palace, reclaiming control of Afghanistan two decades after US troops ousted them, fears of a return to the Taliban's ruthless rule, as well as the threat of retaliatory killings, grew.
Thousands of US troops were deployed into Afghanistan to help with the hasty retreat, and foreign forces guarded Kabul's international airport.
Afghanistan's economy appears to be a source of concern. According to a Biden administration official, any central bank assets held by the Afghan government in the United States will not be made available to the Taliban. Da Afghanistan Bank (DAB) has $9 billion (£6.5 billion) in reserves, the majority of which is held in America.
Dollar shipments, international loans, and help are all in grave danger now that the militants have taken control.
The previous governor of DAB warned that the Afghan economy was on the verge of collapsing. DAB's total reserves were at $9 billion as of last week, according to Ajmal Ahmady, who was forced to depart the country over the weekend.
However, he stated that the majority of this was held in secure, liquid assets such as US Treasury bonds and gold overseas, as per international standards.
"Given the Taliban's are still on international sanction lists, it is expected (confirmed?)
that such assets will be frozen and not accessible to the Taliban," Mr. Ahmady said.
"We can say the accessible funds to the Taliban are perhaps 0.1-0.2% of Afghanistan's total international reserves. Not much."
He added that without US Treasury permission, no funders would be willing to assist the Taliban regime. The International Monetary Fund has also hinted that a $450 million loan to DAB scheduled to arrive on August 23 may be postponed.
Mr. Ahmady further stated that due to the DAB's significant current account imbalance, dollar shipments had been halted.
All of this, he predicted, would lead to rising inflation and a weakening currency, rising food prices.
Source: BBC News