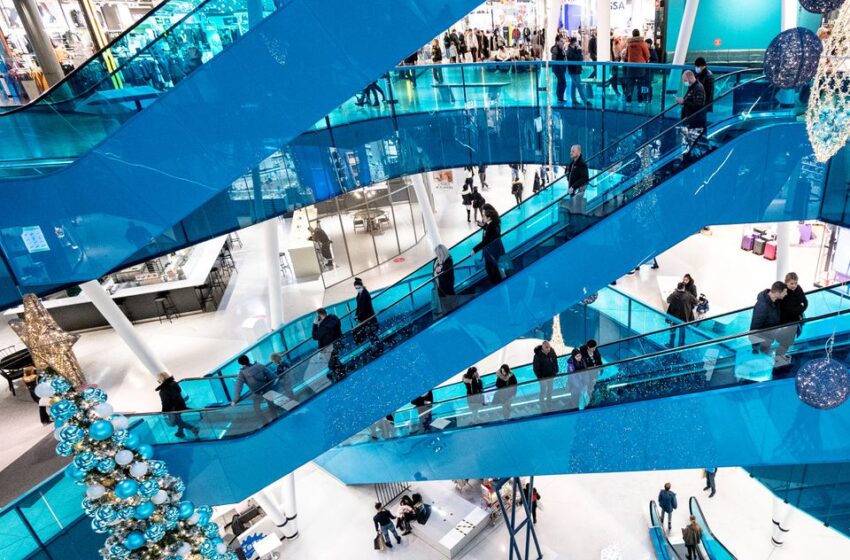 Christmas shoppers maintain social distancing as they ride on escalators in Emporia shopping centre in Malmo, Sweden, December 20, 2020. TT News Agency/Johan Nilsson via REUTERS
Swedish inflation runs red hot in December, raising pressure on Riksbank
STOCKHOLM, Jan 13 (Reuters) – Swedish consumer prices rose more than expected in December, hitting double digits and a fresh 30-year high in an outcome that raises pressure on the central bank to keep cranking up interest rates after four hikes last year.
Consumer prices, measured with a fixed interest rate, rose 1.9 percent in December from the previous month and were up 10.2 percent from the same month last year, the statistics office (SCB) said on Friday.
Analysts in a Reuters poll had forecast headline inflation of 9.9% while the Riksbank saw annual price increases running at 9.1% in its most recent forecast in November. The central bank targets 2 percent CPIF inflation.
Nordic bank Nordea said the outcome was less dramatic than it seemed and a result of electricity prices being up almost 30% in December compared to the previous month. Electricity prices have come down since the start of the year.
"This means that headline inflation will probably be close to the Riksbank's forecast again already in January. We stick to our forecast of a 50 basis points rate hike in February and the bank staying on hold during the remainder of 2023," Nordea said in a note.
Central banks around the world have reacted sharply to soaring inflation, jacking up interest rates and squeezing mortgage borrowers.
The Riksbank raised borrowing costs by three-quarters of a percentage point in November taking the policy rate to 2.50% and said it expected to raise rates a bit more, forecasting a peak of around 3.0% sometime in the first half of this year.
After inflation came in higher than expected in November, the most recent reading raises the likelihood of a half-percentage point move at the next meeting, which will be announced on Feb. 9.
Inflation has started to taper off in some parts of the world. In the United States, it fell for the first time in 2-1/2 years in December and markets are expecting the Federal Reserve to ease the pace of hikes before starting to cut rates in the second half of the year.
The soaring inflation and dramatic tightening of monetary policy has already begun squeezing Sweden's heavily indebted households, dampening consumer demand and hitting real estate markets hard.
CPI inflation was 2.1 percent on the month and 12.3 percent on the year.
Reporting by Johan Ahlander; Editing by Niklas Pollard and Raissa Kasolowsky