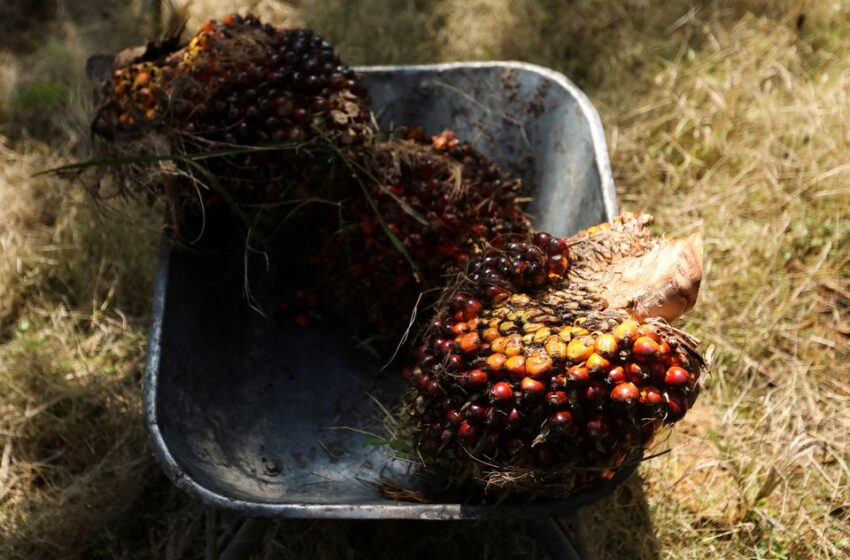 Fresh fruit bunches of oil palm tree are are seen inside a wheelbarrow at a palm oil plantation in Kuala Selangor, Selangor, Malaysia April 26, 2022. REUTERS/Hasnoor Hussain
Malaysia says it could stop palm oil exports to EU after new curbs
KUALA LUMPUR, Jan 12 (Reuters) – Malaysia said on Thursday it could stop exporting palm oil to the European Union in response to a new EU law aimed at protecting forests by strictly regulating sale of the product.
Commodities Minister Fadillah Yusof said Malaysia and Indonesia would discuss the law, which bans sale of palm oil and other commodities linked to deforestation unless importers can show that production of their specific goods has not damaged forests.
The EU is a major palm oil importer and the law, agreed to in December, has raised an outcry from Indonesia and Malaysia, the top producers.
"If we need to engage experts from overseas to counter whatever move by EU, we have to do it," Fadillah told reporters on the sidelines of a seminar on Thursday.
"Or the option could be we just stop exports to Europe, just focus on other countries if they (the EU) are giving us all a difficult time to export to them."
Environmental activists blame the palm oil industry for rampant clearing of Southeast Asian rainforests, though Indonesia and Malaysia have created sustainability certification standards mandatory for all plantations.
Fadillah, who is also deputy prime minister, urged the members of the Council of Palm Oil Producing Countries (CPOPC) to work together against the new law and to combat "baseless allegations" made by the EU and United States about the sustainability of palm oil.
CPOPC, which is led by Indonesia and Malaysia, has previously accused the EU of unfairly targeting palm oil.
Responding to Fadillah, the EU's ambassador to Malaysia said it was not banning any imports of palm oil from the country and denied that its deforestation law created barriers to Malaysian exports.
"(The law) applies equally to commodities produced in any country, including EU member states, and aims to ensure that commodity production does not drive further deforestation and forest degradation," EU Ambassador Michalis Rokas told Reuters.
Rokas added that he looked forward to meeting Fadillah to ease Malaysia's concerns.
EU demand for palm oil was expected to decline significantly over the next 10 years even before the new law was agreed to. In 2018, an EU renewable-energy directive required the phasing out of palm-based transportation fuels by 2030 because of their perceived link to deforestation.
Indonesia and Malaysia have launched separate cases with the WTO, saying the fuels measure is discriminatory and constitutes a trade barrier.
Indonesian President Joko Widodo and Malaysian Prime Minister Anwar Ibrahim this week agreed to "fight discrimination against palm oil" and strengthen cooperation through CPOPC.
The EU is the world's third-largest palm oil consumer, according to Malaysian Palm Oil Board data. It accounts for 9.4% of palm oil exports from Malaysia, taking 1.47 million tonnes in 2022, down 10.5% from a year earlier.
Reporting by Mei Mei Chu; Editing by Naveen Thukral, Bradley Perrett and Nick Macfie