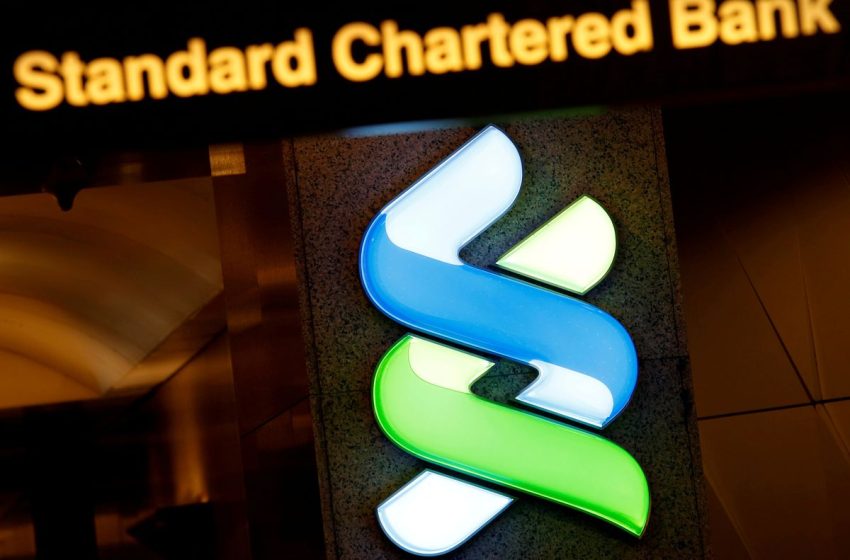 A logo of Standard Chartered is displayed at its main branch in Hong Kong, China, Aug. 1, 2017. REUTERS/Bobby Yip
StanChart bets on rate hikes to hit lofty goals as profit disappoints
SINGAPORE/LONDON, Feb 17 (Reuters) – Standard Chartered (STAN.L) has raised its core profitability goals and promised shareholders extra payouts, despite full year profit undershooting expectations, as it banks on inflation-battling rate hikes worldwide to boost lending.
CEO Bill Winters, who repaired StanChart's balance sheet and cut thousands of jobs after he took charge in 2015, is under pressure to boost growth and lift the bank's flagging share price. Its London-listed stock is around 45% below the level when Winters became CEO.
StanChart's shares fell 4% on Thursday, the second worst performers in the benchmark London FTSE index (.FTSE) as the bank's 2021 profits missed expectations and investors digested a growth strategy reliant on rate hikes and cost cuts.
The results on Thursday from the emerging-markets focused lender, the first major British bank to report annual earnings, gave an early indication of how rising central bank interest rates will help banks to improve performance.
StanChart, which earns most of its revenue in Asia, said its statutory pre-tax profit doubled to $3.3 billion in calendar 2021 from $1.6 billion in 2020, but missed the $3.8 billion average estimate of 16 analysts, as compiled by the bank.
"Confidence in our overall asset quality and earnings trajectory allows us to return significant capital to shareholders," Bill Winters said in a statement.
The London-headquartered bank expects revenue to grow by an extra 3% per year as it benefits from rising interest rates.
That will help it bring forward a goal of hitting double-digit returns to 2024, from a previously unspecified timeframe.
Analysts were doubtful the bank could hit its new targets, given its track record of undershooting in the past.
"StanChart's track record might warrant some skepticism in analyst forecasts," Citi analyst Yafei Tian said.
The bank made a statutory pre-tax loss of $208 million in the fourth quarter versus a profit of $996 million in the third quarter and compared with the $288 million average estimate of 16 analysts, as compiled by StanChart.
Full-year income from Hong Kong, its biggest market, fell 2%. Many Asian economies are reopening after the pandemic but Hong Kong is now introducing its toughest measures, hitting its economy.
Winters said StanChart was not transferring staff from Hong Kong but warned that the Chinese territory would suffer in the longer run against other regional hubs if mobility remained curbed.
UNDERPERFORMING
StanChart's London-listed shares have gained 12% over the past year versus a 28% surge in HSBC (HSBA.L) and a 26% rise in Barclays (BARC.L).
Analysts said StanChart, which has a presence in 59 markets and employs 82,000 staff, lacks the heft of larger, more well-capitalised rivals in commercial banking and has missed out on a pandemic-related trading boom compared with U.S. rivals which have bigger investment banks.
StanChart has, however, been building a portfolio of digital banking platforms and invested heavily in technology.
"While the pandemic brought about considerable challenges and, as a result, the turnaround is taking longer than previously anticipated, it is clear to us that the refreshed strategic priorities we set out at the start of 2021 are right," Chairman Jose Vinals said.
StanChart said it would invest a further $300 million in China as it competes with HSBC to increase its share of banking business in the world's second-largest economy.
StanChart also suffered a $300 million writedown on the value of its investment in China's Bohai Bank, and took a $95 million "management overlay" against further expected charges in the troubled real estate sector.
It announced a $750 million share buyback, starting imminently, and a 12 cents per share dividend for 2021, up a third on 2020.
The bank, which bases its business on capturing trade flows between its key markets of Asia, Africa and the Middle East, reported credit impairment charges of $263 million, versus $2.3 billion a year earlier.
Reporting by Anshuman Daga in Singapore and Lawrence White in London; Editing by Carmel Crimmins, Sam Holmes, Jane Wardell and Jane Merriman
Source: https://www.reuters.com/business/finance/stanchart-full-year-profit-doubles-start-750-mln-sharebuyback-2022-02-17/