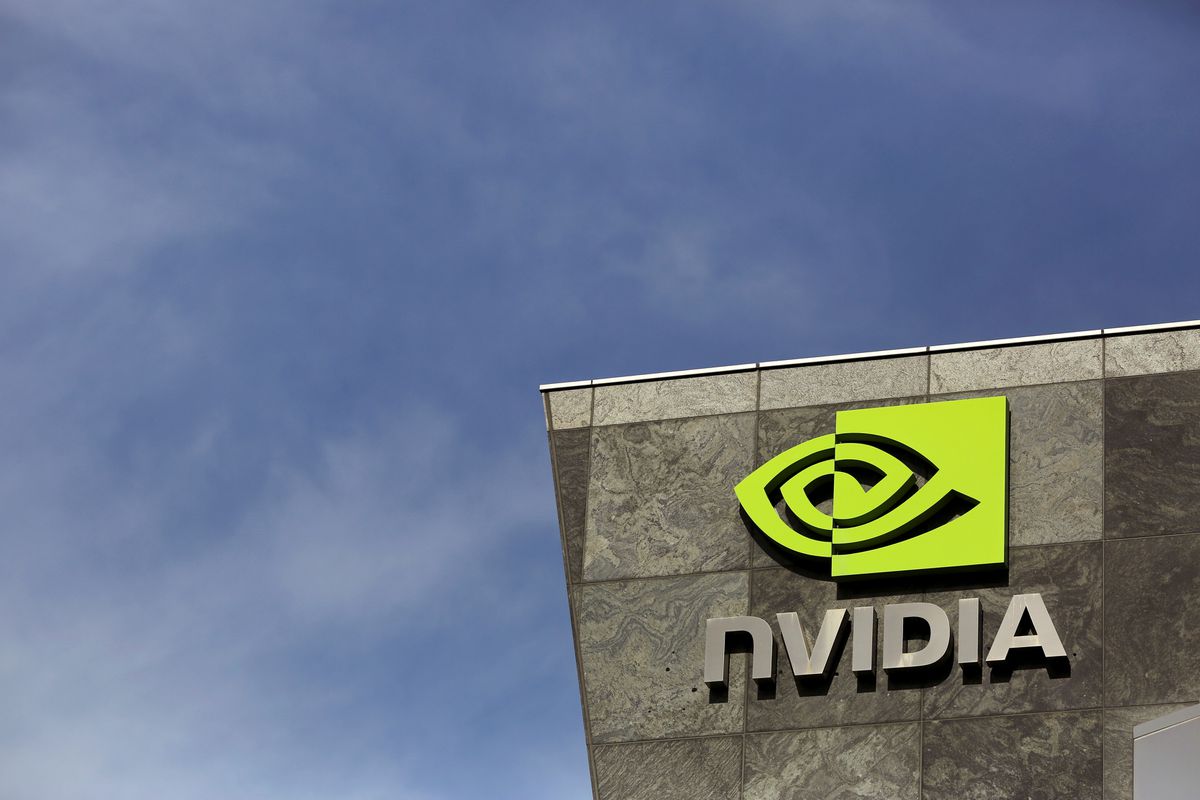 The logo of technology company Nvidia is seen at its headquarters in Santa Clara, California February 11, 2015. REUTERS/Robert Galbraith
Nvidia forecasts upbeat revenue on metaverse hopes
 17 (Reuters) – Nvidia Corp (NVDA.O) forecast fourth-quarter revenue above analysts' expectations on Wednesday, betting on growth in its data center business as more internet companies set out to invest in artificial intelligence and the metaverse.
The online realm that uses augmented and virtual reality to help users interact has captured more attention after Facebook (FB.O), now renamed Meta, said it would boost capital expenditure and shift focus from its social media business.
The move will be a big boost for Nvidia, the world's biggest maker of graphics and AI chips, as metaverse applications would need more computing power and drive demand for chips.
The company last month released Omniverse Enterprise, a set of software tools that will allow companies to collaborate in building virtual worlds, the computing power for which comes from Nvidia's chips.
Nvidia Chief Executive Jensen Huang said he believes Nvidia could eventually fetch up to $1,000 a year from up to 40 million virtual world creators and designers. The company believes about half its revenue from Omniverse will come from chips and half from software.
"There will probably be more virtual worlds than there are websites today. And the reason for that is they are easier to build," Huang told Reuters in an interview.
Nvidia expects current-quarter revenue of $7.40 billion, plus or minus 2%, above analysts' average estimate of $6.86 billion, according to IBES data from Refinitiv.
The company's shares were up nearly 4% in extended trading, after more than doubling this year.
The company has so far avoided major supply chain problems despite a global chip crunch, but supply chain costs are rising. It said Wednesday that outstanding inventory purchases and long-term supply obligations were $6.90 billion, up from $2.57 billion a year earlier. The company made a $1.6 billion payment in the third quarter alone to secure supply.
"When it came up, I jumped on the opportunity. Nvidia has a lot of cash, and we generate a lot of cash," Huang told Reuters. "I was more than delighted to secure our future growth with cash."
For the reported third quarter, revenue in Nvidia's gaming unit rose 42% to $3.22 billion and data centers surged 55% to $2.94 billion.
Analysts had expected $3.13 billion and $2.75 billion for gaming and data centers, respectively, according to FactSet.
Overall, revenue rose about 50% to $7.10 billion for the three months ended Oct. 31, above the average estimate of $6.83 billion, according to IBES data from Refinitiv. Earnings were $1.17 per share on an adjusted basis, 6 cents more than expectations, according to Refinitiv data.
Source: https://www.reuters.com/technology/nvidia-forecasts-upbeat-revenue-data-center-chip-demand-2021-11-17/