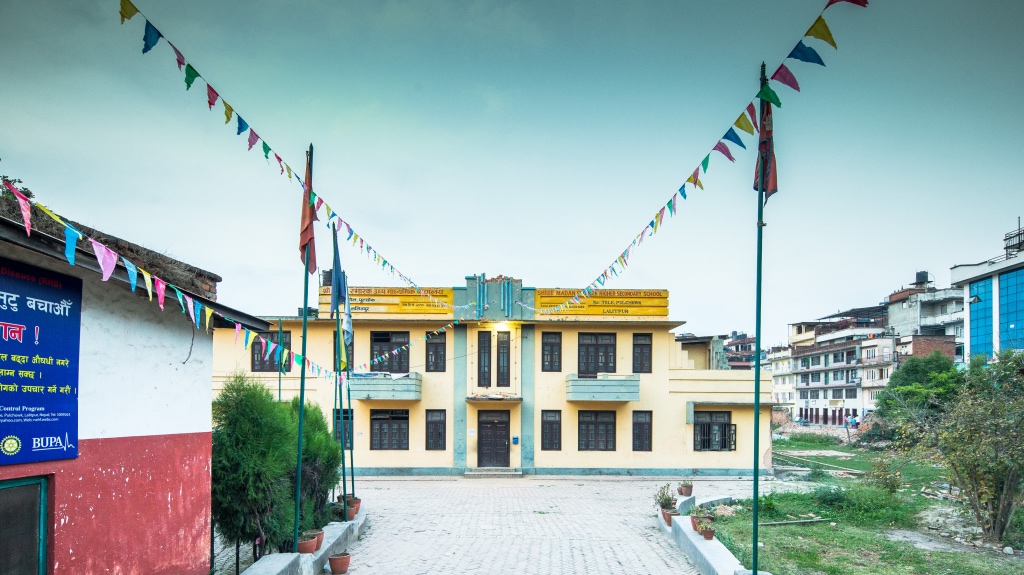 Retro fitted Shree Madan Smarak Higher Secondary school building stands safe in Patan.
New technology helping rebuild Nepal's quake-hit schools better, and faster
By Naresh Giri
Effective project implementation demands real-time monitoring of construction progress and quality in the field.
Thanks to technology, real-time monitoring of development projects is now possible, helping project managers address the multiple challenges of implementing post-disaster emergency projects. A good example is using a web-based project monitoring information system (MIS) to closely follow progress in school construction following the devastating earthquake that hit Nepal in April 2015.
Although the Nepal Earthquake Emergency Project (EEAP) has been progressing well over the last three years and procurement of all work contract packages has been completed, some of the later awarded packages faced implementation delays. Following consultations with end-users, we developed a project monitoring information system to monitor EEAP's implementation.
There were other such systems on the market, but they didn't meet our needs, so we decided to develop our own tailored system. Almost all of them lacked the functionality to capture geo–coded spatial information at the site and did not link the information with contract packages.
The system is a web app linked with mobile apps for real-time progress tracking, offering a platform for complete information related to the project. Information such as detailed surveys, safeguards, and quality assurance monitoring is embedded, and the system is already fully operational.
Overseeing the implementation of a project, especially those in remote areas, is always challenging for project managers. For instance, I recently got a call from a newly elected ward chairman complaining about the poor quality of construction of Jai Saraswoti school in Sindhupalchowk, around 4-hours' drive east from Kathmandu.
Tech has enabled real-time monitoring of development projects in Nepal
I clicked on the MIS and found that the school was remotely located. I then reviewed the updated progress and checked the latest site photographs, which showed satisfactory construction quality. I immediately replied to the ward chairman and requested him to revisit the site along with the site engineer and upload the activity in the system. He did so and found no serious issue.
The timely communication and field evidence in the MIS resolved the situation without having to travel to the remote area to check on-site.
In another instance, I was informed that there was not enough supervision at many school sites. I checked the system to find out the number of schools that had reported delays of more than 15 days.
I was surprised to find out that almost 50 schools had outdated records, prompting me to activate all resident engineers to go to the field to update the records. A week later, only 12 schools were showing the alert for reporting delays. This further alerted me to look into the physical progress of construction and I found that 21 schools were delayed by more than 50%.
When I looked at the workforce tracking function in the system, I found that all these schools had no workers for the last 30 days. I immediately brought the issue forward through a series of meetings with counterparts and contractors, and successfully ended the delays.
ADB developed own system to monitor implementation of Nepal project
By analyzing the causes of these and other delays, we realized that the key to effective project implementation is the timely flow of information from field to management levels within the government counterparts and with ADB. This can only be achieved through real-time monitoring of construction progress and quality at field level.
The project monitoring information system works on a "two desk" system.
The first is the field desk, whose key function is to feed in information related to construction using the mobile apps. The mobile apps are programmed to provide inputs related to four activities: survey, progress, quality assurance (QA), and safeguards compliance.
Resident engineers input the progress data every 15 days, and concerned specialists periodically fill in other information related to survey, QA, and safeguards compliance. This information can be accessed on the web and is stored at the Nepal Government's Integrated Data Center.
The second is the monitoring desk. With the system, project managers can interact in real time with resident engineers to track progress against schedule and assess quality.
Remotely monitoring projects helps resolve problems quickly
In one instance, the QA expert alerted that work had not been properly carried out at Nagkanya School in Ramechhap, a 5-hour drive southeast from Kathmandu. Project staff searched the problem through the monitoring desk and found out that there was a case of concrete honeycombing, probably caused by incorrect grading or poor mixing, which is a clear noncompliance.
The staff got in touch with the resident engineer and the problem was rectified, with project staff tracking the rectification through the monitoring desk.
Similarly, ADB is closely monitoring the construction of those schools that are over 50% behind schedule. The construction delay is reflected in the dashboard as a red bubble, representing the geo-coordinates of these schools.
We pay special attention and constantly follow up on these schools, 11 of which are in Sindhupalchowk. Project staff are seeking immediate actions to expedite construction there.
As I am writing this blog, I can see my mobile phone is being flooded with MIS email alerts. I can sense the number of real-time observations being made at the construction sites and am satisfied that I can still monitor these activities from afar.
Source: https://blogs.adb.org/blog/new-technology-helping-rebuild-nepal-s-quake-hit-schools-better-and-faster