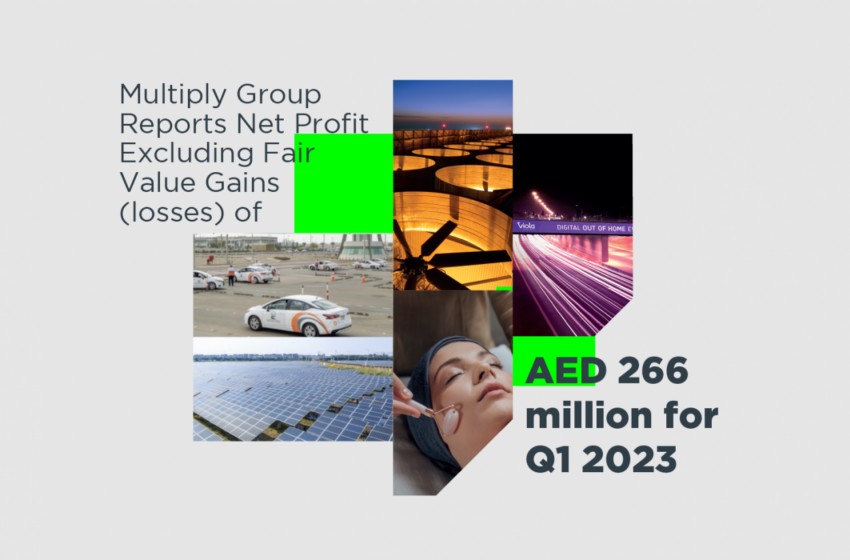 Multiply Group Achieves Net Profit of $72.44 million in Q1-2023
Multiply Group, an Abu Dhabi-based investment holding company, on Tuesday announced that it has reported a net profit excluding fair value gains (losses) of $72.44 million, a 241% growth compared to the same period last year. The Group generated $82.52 million of dividends from its public market portfolio.
Notably, revenue from the company's operating business reached $73.26 million during Q1 of 2023, a 11.6% growth year-on-year with over 50% gross margin. This reflects the Group's continued focus on building its verticals.
"Fair Value Losses of $72.17 million were incurred in the first quarter of this year. It is imperative to note that these fair value changes are largely unrealised, and the short-term movements do not impact the Group's long-term view of these assets," the company said.
From a total invested amount of $3.43 billion, the Group's current public market portfolio stands at over $8.99 billion, a 166% appreciation. Multiply Group's investment portfolio is a key part of its asset base, and it has been an important growth driver.
Building Leadership Position
Samia Bouazza, Group Chief Executive Officer and Managing Director at Multiply Group, said: "As we
release our first earnings report for 2023, we continue to build a leadership position across our portfolio companies, with aggressive pursuit of organic growth."
He said that they have begun the year growing their media and communications vertical with the aim of consolidating country wide assets in the out-of-home media space. "Our results this quarter are the sum of robust earnings from our operating businesses as well as cash dividends from our investments, and of the loss we have recorded on our public portfolio," he added.
The Group's net profit excluding fair value gains/ losses, reached over $72.44 million, a 241% growth year-on-year.
"I am confident that the stability and growth demonstrated by these businesses, and our focused acquisition strategy leave us well positioned to accelerate our growth plans over the coming quarters," he said.
"We have had significant gains from our public portfolio since 2022. While that has substantially boosted our balance sheet, the gains are largely unrealised, and so is the $72.17 million fair value loss this quarter. Our net income for Q1 is $13.89 million," he added.
He said that during Q1, the Group generated $82.52 million of dividends from its public market portfolio. This is a key value driver amid the ongoing market volatility and uncertainty surrounding the global macros.
"Over the next 12 to 18 months, we remain largely fixated on building our verticals and growing our operating businesses and recurring income. We have access to over $330 million in cash and over $1.63 billion in financing capacity and are on the lookout for good deals globally," he added.
Multiply+ remains our opportunistic investment arm, which is especially useful considering the prevalent market dislocations. This will be a key factor in accruing free cash flow and growing our earnings per share.
Mutiply Group sees more value accretive acquisition opportunities emerge globally across its operating verticals and investment arm.