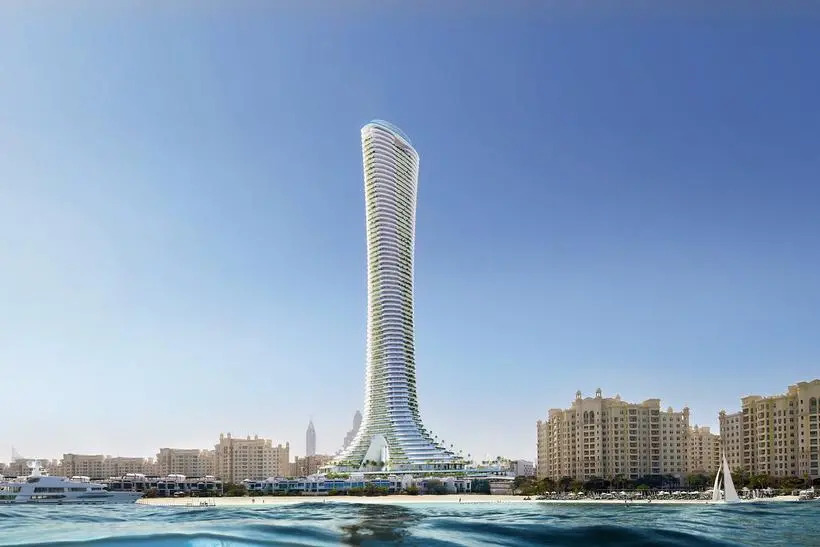 Nakheel unveils new residential tower on Palm Jumeirah
Dubai master developer Nakheel on Wednesday announced the launching of Como Residences, a new exclusive residential development on Palm Jumeriah that will offer luxurious living experiences with privacy, exclusivity, and extensive premium amenities to its residents.
The residences will redefine the skyline of Palm Jumeriah, with the 71-storey residential tower standing at over 300 meters tall.
According to Nakheel, Como Residences is limited to just 76 residences consisting of two- to seven-bedroom apartments including a spacious duplex penthouse in addition to key amenities such as an elevated private sandy beach, a 25-meter lap pool and a rooftop infinity pool.
The residences have been impeccably designed with luxury finishings, natural lighting and a wealth of space, with three-bedroom apartments spanning approximately 10,000 sq ft of indoor and outdoor living space, Nakheel said.
The tower features an innovative design that ensures each residence can take full advantage of the 180° to 360° views of Dubai and the Arabian Sea from wrap around balconies.
The development of Como Residences underlines Nakheel's commitment to enhance the quality of life for citizens, residents, and visitors of Dubai by providing elevated waterfront living experiences, Nakheel added.
Chief Commercial Officer Rasha Hasan said that they were excited to launch this project on Palm Jumeirah. Como Residences will be a key addition to the Nakheel portfolio and will set a new standard for luxury living.
"With the very best designs and features, this development will provide residents with an exclusive lifestyle like no other," Rasha added.
Each floor of the development will be occupied by one or two residences only, served by access-controlled elevators leading to individual private lobbies, Rasha said.
According to her, the residences have been designed with high ceilings in living rooms, floor-to-ceiling thermally insulated windows, and smart home features, with some apartments featuring private swimming pools.
The lobby will offer valet and concierge services while some residences will also have independent drivers' quarters, for enhanced privacy.
"Como Residences will also have extensive landscaped areas as well as a variety of recreational spaces. Other amenities include multiple swimming pools, paddle courts, squash courts, a gymnasium, a spa and wellness centre and secure storage spaces," she added.
About Nakheel
Nakheel is a world-leading master developer whose innovative, landmark projects form an iconic portfolio of master communities and residential, retail, hospitality and leisure developments that are pivotal to realising Dubai's vision.
Nakheel's waterfront projects, including the world-famous, award-winning Palm Jumeirah, have added more than 300 kilometres to Dubai's original, 70km coastline, paving the way for the development of hundreds of seafront homes, resorts, hotels, and attractions.
Nakheel's master developments span 15,000 hectares, accommodate nearly 300,000 people and provide a growing range of destinations, attractions and facilities for Dubai's citizens, residents, and tourists.
They include Palm Jumeirah, The World, Jumeirah Islands, Jumeirah Park, Jumeirah Village, Al Furjan, The Gardens, Discovery Gardens, Jebel Ali Village, Dragon City, Nad Al Sheba Villas, Warsan Village, International City and the upcoming Dubai Islands – a new destination for tourism, living and leisure at Dubai's oldest, most traditional trading hub.