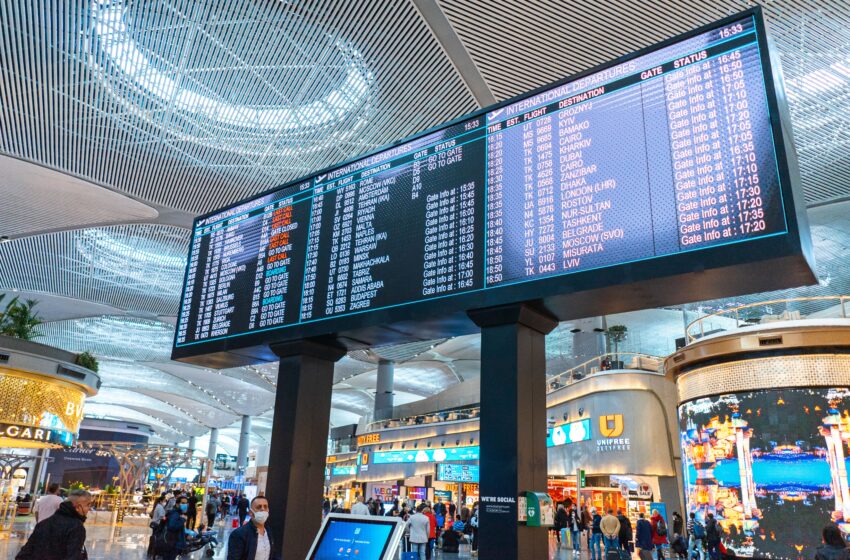 Istanbul International Airport was Busiest in March
Turkiye's mega airport Istanbul was the busiest one in Europe, with an average of 1,263 daily flights in March, according to EUROCONTROL. Sabiha Gokcen, also in Istanbul, ranked 17th on the list with an average of 549 daily flights.
Istanbul Airport was followed by Heathrow with 1,190 flights and Charles de Gaulle in Paris with 1,135 flights. Amsterdam's Schiphol and Frankfurt came fourth and fifth, respectively.
In terms of air traffic, Turkiye was the sixth busiest country in Europe last month, with an average of 2,324 daily flights, up 30.2% from March 2021. On average, the UK and Germany had 4,634 and 3,895 flights per day, respectively, followed by Spain (3,889) and France (3,378).
"Traffic in Europe last month was 13.9% higher than traffic in March 2023. Ryanair was the busiest operator with 2,321 movements per day on average, followed by Turkish Airlines (1,300), easyJet (1,262) and Lufthansa (975)," EUROCONTROL said.
There were 745,600 flights throughout Europe, and the network saw 24,052 flights per day on average in March, according to Turkish English daily Hurriyet Daily News.
"With the beginning of the summer schedules on March 26, three market segments have expanded capacities in the network: Mainline, Regional and Low-Cost," it said.
One Billion Passengers
Meanwhile, Turkish Airlines flew its one billionth passenger on April 24.
Mustafa Balcı, the carrier's one billionth passenger, was traveling from Istanbul Airport to the south-eastern province of Adıyaman. Turkish Airlines gave the passenger 1 million bonus miles. The flag carrier also said it held a record 1,653 flights and 278,299 passengers on April 23.
Turkish Airlines carried more than 6 million passengers in March, up 27.5 percent from a year ago. The international passenger tally rose 37.3 percent annually to 4 million, while domestic passenger traffic grew 12.3 percent to 2.1 million.
In the first quarter of this year, Turkish Airlines' total number of passengers increased by nearly 35 percent year-on-year to 17.05 million.
Earlier this month, the carrier said it aims to boost its consolidated revenue by over $50 billion by 2033 and expand its fleet to 435 aircraft in 2023 and over 800 by 2033. It also aims to serve 170 million passengers by 2033, compared to more than 85 million in 2023, the report said.
Globally Largest
EUROCONTROL also said that Turkey's new Istanbul airport is expected to become one of the world's largest, changing the map of European aviation.
The creation of a new airport is a significant change on the map of European aviation, and it does not happen overnight. The symbolic launch of the New Istanbul Airport took place on 29 October 2018. The major infrastructure is a big addition to the European Network, and on shores of the Black Sea, the New Istanbul Airport is, in its first phase, expected to serve 90 million passengers annually.
All aviation operations will move to the new airport at the end of December when Istanbul's main international airport, named after Turkey's founder Mustafa Kemal Ataturk, will be closed.
The construction of the new airport has a major impact on many operational and technical aspects, as well as on neighbouring countries. Its geographical location implies a radical change of airspace design, the creation of new routes, and different approach operations.
One of the most important developments in relation to the full operation of the Istanbul New Airport was the airspace design.
Under the chairmanship and supervision of the EUROCONTROL Network Manager, several bilateral meetings with Turkey were organised, as well as multilateral meetings between Turkey, Greece, Romania, and Bulgaria.
The enroute airspace redesign was built on properly designed terminal airspace organisation. Also conducted was the review and signature of the Letters of Agreement.