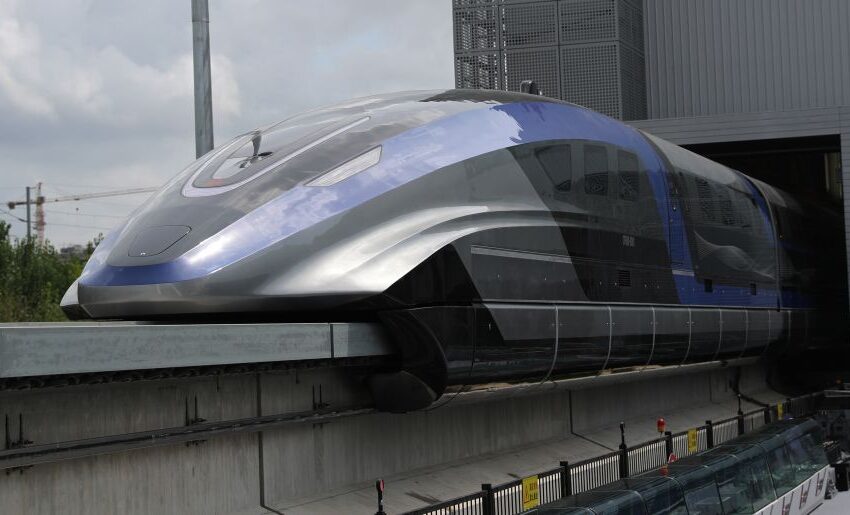 China Plans Shanghai-Hangzhou Hyperloop Train by 2035
China is all set to build its first hyperloop train line between Shanghai and Hangzhou, according to the nation's top engineering and rail design institutes.
The 150 km-long (93-mile) in-vacuum tunnel will allow maglev trains to travel at speeds of up to 1,000km/h (621mph). The line is expected to be operational by 2035.
The Chinese Academy of Engineering and rail authorities commissioned a comprehensive assessment on the candidate construction sites for ultra-high speed pipeline maglev system demonstration line," and the two richest cities in the east coast emerged as winners, said scientists involved in the project the South China Morning Post said in a report, quoting an article published in the Chinese-language journal Railway Standard Design on April 17.
The academy is responsible for providing scientific and technological advice to the Chinese government. Top scientists and engineers from the academy are directly involved in the conception, design, and construction of the nation's largest infrastructure projects.
The assessment team was led by Zhang Yunjiao, a senior engineer with the state-owned China Railway Engineering Design and Consulting Group in Beijing.
An ultra-high speed pipeline maglev system – more commonly known as a hyperloop – was first proposed by entrepreneur Elon Musk in 2013. The transport system uses vacuum-sealed tubes to transport passengers and cargo.
China is already a leader in high-speed rail technology, and investing in hyperloop technology could help maintain its position as a global leader in transport innovation, according to the assessment team.
"The hyperloop project is of strategic significance to China," Zhang and her colleagues said in the assessment report.
High Competition
Several lines competed for the hyperloop project in China, including the Beijing-Shijiazhuang, Guangzhou-Shenzhen, and Chengdu-Chongqing lines. Each had unique advantages, according to Zhang's team.
A Beijing-Shijiazhuang line would connect the capital city of Beijing with Shijiazhuang, the capital city of Hebei province, thereby connecting two major cities in northern China and relieving congestion on existing transport routes around the capital region.
A Guangzhou-Shenzhen line would connect two important economic centres in the Pearl River Delta region and help stimulate growth and development in the Guangdong–Hong Kong–Macau Greater Bay Area.
The Greater Bay Area lies in a strategic region at the heart of Asia-Pacific, making it an ideal hub for connecting China with other countries in the region and beyond. A Chengdu-Chongqing line would connect two major cities in western China – one of the fastest growing regions in the country thanks in part to the Belt and Road Initiative.
The project team said that they considered several key factors in the competing hyperloop bids.
The economic potential of each line was evaluated according to factors such as population density, economic activity, and existing transport infrastructure. The assessments also considered technical feasibility, social impact, political support such as government policies and funding availability, and integration with existing transport infrastructure.
A Hangzhou-Shanghai line would be most feasible and beneficial for China to pursue, according to the report.
Shanghai and Hangzhou are both major cities with strong economic and cultural significance. While Shanghai is the largest city in China by population, is a global financial centre and home to the world's largest Tesla car factory, which is run by Elon Musk, Hangzhou, famous for its natural beauty, is a hub for e-commerce companies such as Alibaba, which owns the South China Morning Post.
Travelling by car between the cities takes about three hours, or about an hour by high-speed rail to cover 200 km. But according to some estimates, a hyperloop line could cut the trip to about 15 minutes.
In just 15 years, China has built enough high-speed rail to circle the Earth. Some engineering experts say that experience can be leveraged to accelerate the construction of a hyperloop.
China's vast high-speed rail network has required massive investment in research and development, engineering expertise and advanced manufacturing. Industry experts have said these same resources could be applied to the development of hyperloop technology.
China's experience in building high-speed rail had also provided valuable lessons in project management, logistics and safety that can also be applied in hyperloop projects, they said.