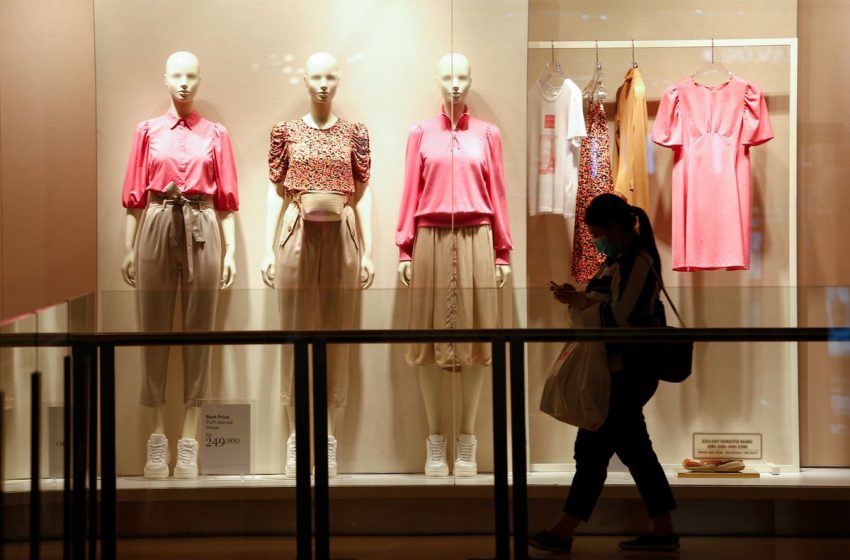 A woman wears a protective mask in a shopping mall after Indonesia confirmed its first cases of coronavirus disease (COVID-19) in Jakarta, Indonesia March 5, 2020. REUTERS/Ajeng Dinar Ulfiana
Indonesia's GDP speeds up on easing COVID-19 curbs, brisk exports
JAKARTA, Feb 7 (Reuters) – Indonesia's economic growth accelerated in the final quarter of last year as consumption perked up following the easing of anti-virus mobility restrictions and as stronger commodity prices pushed exports to record highs.
Southeast Asia's largest economy grew 5.02% on a yearly basis in the October-December quarter, compared with 3.51% growth in the previous quarter, data from Statistics Indonesia showed on Monday. That was roughly in line with the government's prediction and a touch faster than the 4.90% expected in a Reuters poll.
For the whole of 2021, gross domestic product expanded 3.69%, compared with a 2.07% contraction the year before, as the economy recovered from the impact of the COVID-19 pandemic.
However, the outlook for this year is clouded by rising COVID-19 cases, potential financial market volatility due to a global monetary tightening and Indonesia's own rollback of monetary and fiscal stimulus.
"Indonesia's economy rebounded strongly in the final quarter of last year, but the recovery is now entering a more difficult phase," Capital Economics analyst Gareth Leather said in a note.
"Omicron will act as a small obstacle in the first quarter. But a bigger drag will come from falling commodity prices and policy tightening."
The main stock index (.JKSE), which rose nearly 1% in early trading, pared gains after the data.
Indonesia was hit by a deadly wave of COVID-19 cases in July-August, but mobility curbs were eased towards the end of August as infections fell.
In the fourth quarter, household consumption, which accounts for over half of Indonesia's GDP, grew 3.6%, quickening from the 1% growth in the previous three months.
Investment and public spending also grew faster in the fourth quarter, which Statistics Indonesia head Margo Yuwono attributed to a resumption of government and private sector activities that were halted in the third quarter.
Export growth also picked up to 29.8% from 29.2% in the previous quarter as prices of export products like palm oil, coal and nickel stayed high.
COVID-19 cases are currently rising again in Indonesia due to the spread of the Omicron variant, with Sunday's 36,057 new cases the highest since August. However, authorities have not reimposed strict anti-virus measures.
Josua Pardede, an economist with Bank Permata in Jakarta, said he expects 2022 GDP growth to recover further to between 4.8% to 5%, as the government maintains healthcare and social protection spending.
Bank Indonesia will start unwinding easy monetary policy with hikes in banks' reserve requirement ratio starting in March. read more
The tightening is seen as preparation for U.S. rate hikes, which have in the past roiled Indonesian financial markets.
Meanwhile, the value added tax rate on most goods and services is set to rise in April, as part of the government's fiscal normalisation policy. read more
Export contribution to growth could also be curtailed by a ban on overseas shipments of coal in January and a newly implemented domestic sale requirement for some palm oil products. read more
($1 = 14,400.0000 rupiah)
Reporting by Gayatri Suroyo, Fransiska Nangoy and Stefanno Reinard Sulaiman; Editing by Sam Holmes
Source: https://www.reuters.com/markets/asia/indonesias-q4-gdp-accelerates-easing-covid-19-curbs-high-exports-2022-02-07/