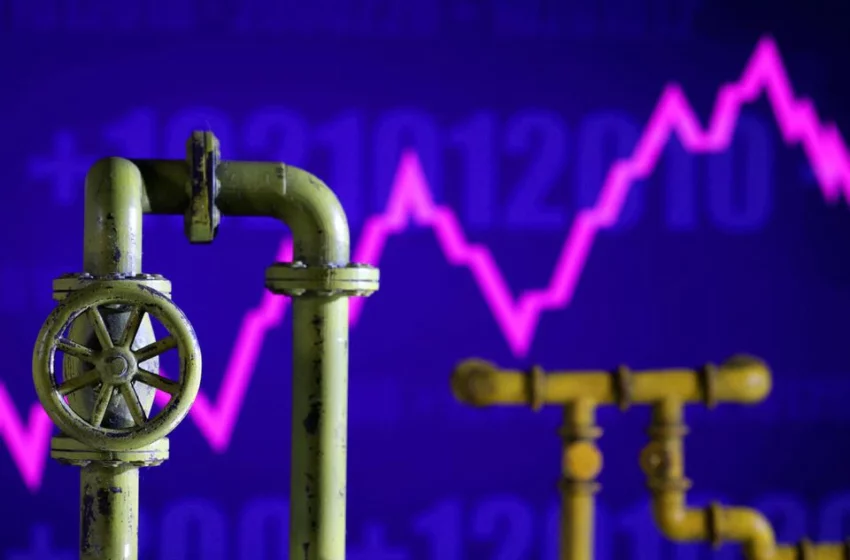 Model of natural gas pipeline and rising stock graph, July 18, 2022. REUTERS/Dado Ruvic/Illustration/File Photo
Exclusive: Tokyo Gas unit nears $4.6 billion deal to buy U.S. natgas producer
Jan 4 (Reuters) – A unit of Tokyo Gas Co Ltd is in advanced talks to buy U.S. natural gas producer Rockcliff Energy from private equity firm Quantum Energy Partners for about $4.6 billion, including debt, people familiar with the matter said on Tuesday.
If consummated, the deal would be the latest move by a Japanese entity to secure gas in jurisdictions perceived as friendly, the importance of which has risen for the import-dependent Asian nation after supply markets for the commodity were roiled by Russia's invasion of Ukraine.
The all-cash deal with Houston-based TG Natural Resources, which is 70% owned by the Japanese energy firm, is set to be announced this month, the sources said, requesting anonymity as the discussions are confidential. Castleton Commodities International (CCI) owns the rest of TG Natural Resources.
TG Natural Resources is arranging funding from several financing sources to support the transaction, including banks and private credit providers, added the sources, who cautioned that no deal was guaranteed and the talks could end without an agreement.
Quantum and CCI declined to comment. Rockcliff and TG Natural Resources did not immediately respond to requests for comment. Tokyo Gas was not immediately available to comment.
Rockcliff produces more than 1 billion cubic feet per day of natural gas from the Haynesville shale formation, which stretches across Louisiana and East Texas. Quantum originally backed the Rockcliff management team with a $350 million investment in 2015.
Buying Rockcliff would significantly increase TG Natural Resources' operations, with the company producing around 330 net million cubic feet per day as of June 2022 from the Haynesville formation, according to its website.
Japan's biggest city gas supplier is in the midst of a portfolio reshuffle aimed at moving resources to growth areas. In October, Tokyo Gas agreed to sell its stakes in a portfolio of four Australian liquefied natural gas (LNG) projects for $2.15 billion to a unit of U.S. investment firm EIG.
Russia's invasion of Ukraine has cut gas supply flows to Europe and led European nations to import record amounts of LNG cargoes, straining global supplies and elevating prices.
Resource-poor Japan has been working to diversify from Russia's Sakhalin project, which accounts for 9% of Japan's total LNG imports of 74.3 million tonnes per year.
Japanese companies inked several deals on Dec 28 to receive LNG supplies, with a preliminary agreement lasting up to 10 years with Oman LNG and a 20-year deal with U.S.-based Venture Global.
In 2021, Japan imported 7.1 million tonnes of LNG from the United States, accounting for 9.5% of its total imports.
Tokyo Gas shares were down 5.07% at the midday break in Tokyo trading.
Reporting by David French in New York and Shariq Khan in Bengaluru; additional reporting by Elaine Lies; Editing by Lisa Shumaker