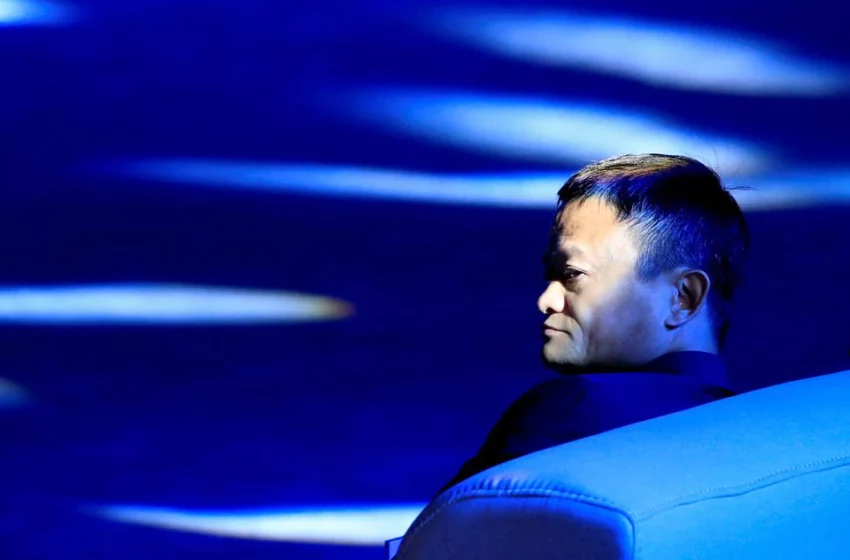 Alibaba Group co-founder and executive chairman Jack Ma attends the World Artificial Intelligence Conference (WAIC) in Shanghai, China, September 17, 2018. Picture taken September 17, 2018. REUTERS/Aly Song/File Photo
Ant-linked firms' shares rise after news of Jack Ma ceding control; Alibaba jumps
Jan 9 (Reuters) – Shares of listed Chinese companies that count Ant Group as a major shareholder rose on Monday after announcements that Ant founder Jack Ma is giving up control of the fintech giant following an overhaul.
Hong Kong-listed shares of Ma's Alibaba jumped 7%.
Shares of Longshine Technology Group Co Ltd, Jilin Zhengyuan, Shanghai Golden Bridge Infotech Co, Orbbec Inc and Hundsun Technologies also rose. Ant indirectly owns stakes ranging from more than 20% to slightly more than 5% in those companies.
Ant said over the weekend that founder Jack Ma will give up control of the company.
The overhaul seeks to draw a line under a regulatory crackdown that was triggered soon after its mammoth stock market debut was scuppered two years ago.
Redmond Wong, Greater China market strategist at Saxo Markets, Hong Kong, said Jack Ma's ceding of control of Ant and other businesses would help remove some uncertainties and pave the way to develop and expand the group's business.
"It should have removed some of the authorities' concerns about the group as the change was likely a negotiated outcome with the authorities," Wong said. "And investor sentiment towards the China internet sector is likely to improve further."
Guo Shuqing, head of China's Banking and Insurance Regulatory Commission (CBIRC), said in an interview with China's official Xinhua news agency published on Jan. 7 that rectification of financial businesses of 14 platform companies have been "basically completed", while a few remaining issues need to be resolved. Guo did not name the companies.
Authorities will adopt "normalized regulation" afterwards and encourage platform companies to operate in a compliant manner, Guo was quoted as saying.
IPO SPECULATION
Ant's $37 billion IPO, which would have been the world's largest, was cancelled at the last minute in November 2020, leading to a forced restructuring of the financial technology firm and speculation the Chinese billionaire would have to cede control.
"Investors can stop guessing and can finally assign a risk premium to the new company that Ant was transformed to be," Alexander Sirakov, managing partner at Aquariusx, a Shanghai-based investment consultancy, said after Ant's announcement.
Morgan Stanley, in a Jan. 8 research note, said it would elevate Alibaba to its "top pick" of stocks in China's internet industry in 2023, citing easing regulation as part of the reasons for its decision.
While some analysts have said a relinquishing of control could clear the way for Ant to revive its initial public offering (IPO), the changes announced on Saturday, however, are likely to result in a further delay due to listing regulations.
China's domestic A-share market requires companies to wait three years after a change in control to list. The wait is two years on Shanghai's Nasdaq-style STAR market, and one year in Hong Kong.
Ant said on Sunday it has no plan to initiate an IPO.
The CBIRC on Dec. 30 approved a capital increase in Ant's consumer finance arm to 18.5 billion yuan ($2.68 billion) from 8 billion yuan in the latest step of its restructuring.
Reuters reported in November, citing sources, that Chinese authorities are poised to impose a fine of more than $1 billion on Ant Group, a move that may set the stage for ending the fintech company's two-year-long regulatory overhaul. read more
Li Nan, professor of Finance at Shanghai Jiaotong University, however said Ant's inherent problems remain after its change of control.
"The key problem in the business model of Ant is embedding loan (Huabei and Jiebei) wealth management and insurance in the payment platform (Alipay), evading the necessary risk management regulation, such as capital adequacy ratio, liquidity ratio as well as loan loss reserve ratio," Li said.
The leverage is still way too high after Ant's capital increase, she said.
Reporting by Shanghai newsroom, Roxanne Liu and Yingzhi Yang in Beijing, Josh Horwitz in Shanghai and Kane Wu in Hong Kong; Editing by Kim Coghill and Muralikumar Anantharaman