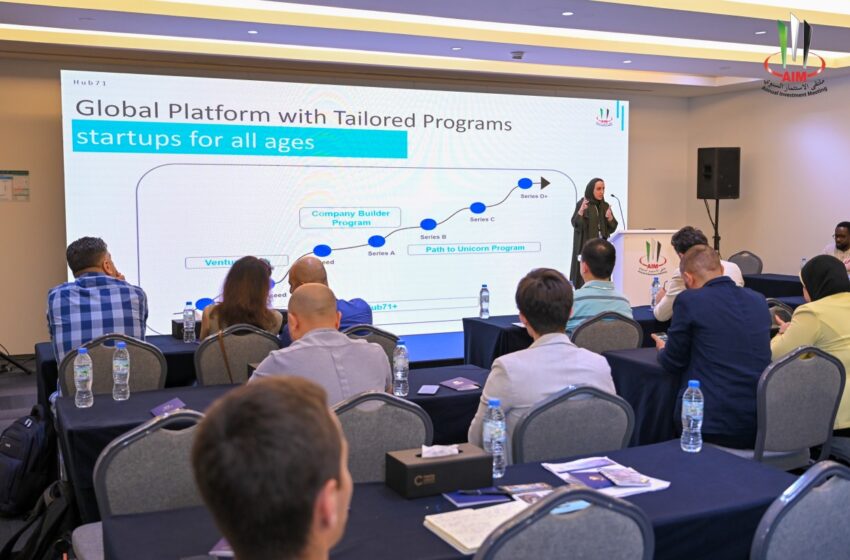 Annual Investment Meeting signs a memorandum of understanding with Hub71
Abu Dhabi, United Arab Emirates, 9 May 2023: The Annual Investment Meeting (AIM Global 2023) signed a memorandum of understanding with Hub71, an Abu Dhabi-based global tech ecosystem, to collaborate and develop innovative strategies for the benefit of both parties.
The scope of the partnership agreement is expected to yield significant benefits to Hub71 as an official Ecosystem Lead Partner in the AIM Global 2023, which started yesterday, May 8, and will run until May 10 at the Abu Dhabi National Exhibition Centre.
Hub71 as AIM Global 2023's official Ecosystem Lead Partner has organized the pre-event workshop entitled "Startups Workshop 2 – HUB 71: A Startup's Guide to Corporate Partnerships: Master the art of pitching and discover techniques to create a winning proposition that unlocks growth opportunities," which provided its participants with a deeper understanding on how to structure their pitches specifically for corporations. The workshop, held a day prior to the start of the AIM Global 2023, was led by Basma Albadi, Corporate Relations, Hub71; and Jeremy Shorter, Assistant Vice-President, Innovation – Aldar Corporate.
Walid A. Farghal, AIM Director General, said: "AIM Global 2023 is an exciting event that brings together some of the most innovative and creative minds from around the world to showcase their ideas and products. With Hub71 as a partner, we are thrilled to be able to tap into their extensive experience and knowledge in the tech industry. This partnership will undoubtedly enhance the overall quality of the event and provide attendees with a unique and enriching experience."
"Moreover, this collaboration is a testament to the UAE's commitment to fostering a thriving startup ecosystem. The UAE has been at the forefront of innovation and entrepreneurship, and this partnership only strengthens our resolve to create a more vibrant and sustainable ecosystem for startups," Farghal said, adding that AIM is looking forward to working closely with Hub71 to create a memorable and impactful event that will inspire and empower entrepreneurs from around the world.
Hub71 is a renowned tech ecosystem that offers support to startups and entrepreneurs from across the globe. With its vast network of mentors, investors, and industry experts, they have helped numerous startups to grow and scale their businesses.
The partnership is expected to leverage the strengths of both organizations to develop innovative and dynamic strategies that will benefit the UAE ecosystem. It will also enhance the growth of the UAE by providing a platform for foreign startups to grow and expand in the country.