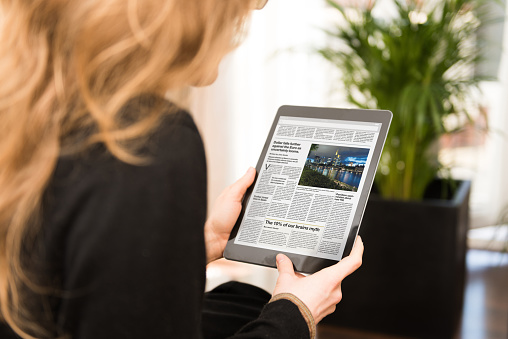 Women In Business Magazine - The Role Of Our Best Finance Magazine In Shaping Women To Make Them Leaders Of Tomorrow
Participation & interests of women in entrepreneurship are increasing dramatically day by day. To name a few Oprah Winfrey, Beth Ford, Lynn Good, Deirdre-OBrien, Shari Redstone, Karen Lynch, Rosalind Brewer, Mary Barra, Gail Boudreaux, Jane Fraser, Carol Tomé, Corie Barry, Susan Griffith, and many other business women professionals and entrepreneurs are an inspiration for the young generation.
The role of Women in business magazines is crucial for any publication to grow.
World Economics Magazine is one of the best economics magazines that serve the needs of women who want to learn about the latest trends and world economical events on a daily basis. 
We believe every woman in the world should contribute to the financial development of their nation. That's why we, as one of the best US-based finance publications in the industry, are committed to giving valuable insights on the global markets covering major industries from banking to technology, finance to travel, and from export-import to oil & gas.
We are dedicated to helping more than a billion women using our:
Analysis of the multinational events.
Research and expert opinion on the important decisions by the fortune 500 companies.
Latest Banking news and updates
Latest Global Economy news and updates
Latest Updates from the finance world
Analysis of geopolitical conditions
Analysis on changes in the corporate world
Research and opinions on world economical events
A look at emerging trends such as Metaverse, Blockchain, Crypto markets, Green energy, Fin-tech, etc.
Interviews with experts and business owners from different industries.
Our B2B Magazine Awards (World Economic Magazine Awards 2022) is also a great opportunity for women to:
Showcase their achievements
Get better market visibility for their business
Participate in prestigious awards
Network with like-minded people from their industry
Show products/ services of their businesses
Interested in World Economic Magazine Awards 2022?
Want to see more details about our Awards?
If you're already a regular reader of World Economic Magazine and want to see more business news magazines for women, you can check the list below which is recommended by our experts.
Top 3 Business News Magazines For Women
ForbesWomen
A number of Forbes magazine's lists and rankings are well-known, such as lists of the richest Americans (the Forbes 400), of the wealthiest celebrities in the world, Forbes list of the World's Most Powerful People, and The World's Billionaires.
Moira Forbes is the publisher of ForbesWoman, a magazine published quarterly by Steve Forbes's daughter.
This business news magazine focuses on:
Technology
Market trends and changes
Leading women in the global market
Personal finance
2. Women Entrepreneur
The magazine – Entrepreneur was first published in 1977. The magazine also covers a special edition for women, named Women Entrepreneur.
Women Entrepreneur is one of the best finance publications for women that covers the following topics:
Effective leadership
Technology
Marketing
Social media
Entrepreneurship lessons
3. HER Magazine
The last magazine on our list is "HER magazine". As the name suggests, it is a dedicated business & economics news magazine for women.
Their unique approach makes them one of the best economics magazines for women.
The magazine focuses on topics like:
Career trends for women
Business trends & the market changes
Entrepreneurship for women
Business growth strategies, etc.
Frequently Asked Questions:
1) What's the role of women in business magazines?
A business-minded woman attracts other women to commence or grow their businesses. Business magazines give an opportunity for women to get valuable insights that help them to keep updated with the market.
2) Which are the best economics magazines for women?
Forbes magazine and HER magazine are the two best business magazines for women. World Economic Magazine is also a great option which is a US-based Best finance publication.
3) How do B2B magazine awards help women in business?
B2B magazine awards help to increase market visibility for a business. Also, it's a great option to network with the best people in the industry. World Economic Magazine Awards are great to start with.
4) Which is the best finance publication every woman should read?
World Economic Magazine is a US-based publication that delivers daily insights and updates on the global market. Any woman who is willing to grow in his profession can start reading it.It's the best option for the women in business magazines.
5) Is World Economic Magazine a leading Global financial magazine 2022?
Yes, World Economic Magazine is one of the best Banking news and updates publications which makes them the most reliable Global financial magazine in the industry in 2022.