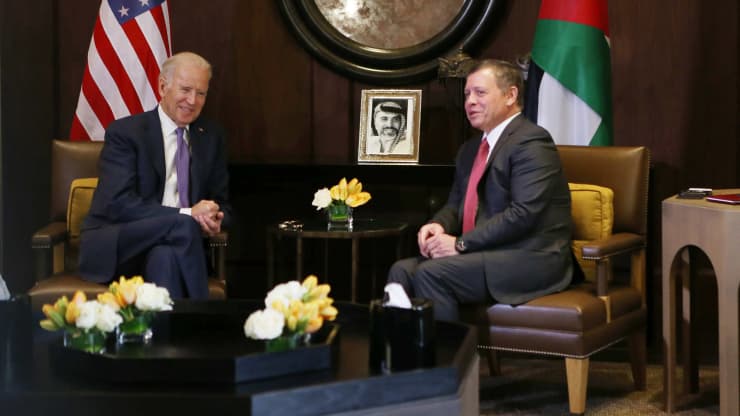 Then - U.S Vice President Joe Biden (L) meets Jordan's King Abdullah II (R) upon his arrival at Al- Husseineya palace on March 10, 2016 in Amman, Jordan. Jordan Pix | Getty Images
Middle Eastern stability as risk as Jordan's monarchy experiences malicious drama
The US government, under Biden's administration, has stepped in to address the ongoing drama within Jordan's royal family that the government has labled as a "malicious plot" questioning the king's administration. As a global reliable ally, Jordan's monarchy has been the US government's asset as it is geographically surrounded by unstable zones like Saudi Arabia, Israel, Syria and Iraq.
Fifteen members of the royal family in Jordan have been arrested last weekend in relations to a "malicious plot" as defined by Jordan's government was made against the reigning throne.
One of the tribal leaders and former ministers, King Abdullah II's half brother Prince Hamza Bin Husein, was also among the ones who was arrested. Prince Hamza had allegedly been part of the meetings where the criticism against the king was the agenda.
The detrimental meetings in the palace has upset the Arab nation and experts suggest now that they could have far-reaching consequences to countries like the US who have been their long-lasting allies and reliable partners during times of political and economic disorder.
Given the country's location surrounded by Saudi Arabia, Israel, Syria and Iraq; Jordan has been a "huge asset" to the States over history.
Tobias Borck, a gulf state analyst, said "Jordan has played a conduit role. It's this anchor in the middle of arguably the most fragile and unstable part of the Middle East." Adding to this he said, "There will be a lot of people in Washington and London over the last 48 to 72 hours who have had to do a lot of work, and are deeply concerned about continued Jordanian stability. That will have been a big driver of such an incredibly quick and fairly high-level response that shows absolutely unequivocal support for King Abdullah."
State Department spokesman Ned Price said, "We are closely following the reports and in touch with Jordanian officials. King Abdullah is a key partner of the United States, and he has our full support." This shows why the US under Biden's administration has responded so quickly to address the situation.
Source
https://www.cnbc.com/2021/04/05/jordans-royal-drama-could-threaten-middle-east-stability-as-us-offers-support.html