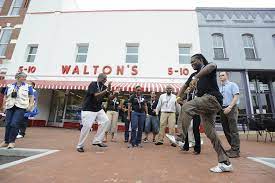 Massmart holdings limited, S.Africa, Announces a lower H1 headline loss!
Massmart Holdings Limited (MSMJ.J) of South Africa said on Friday that its half-year headline loss had fallen by 40.8 %, thanks to rising sales despite new COVID-19 limits and effective expense control.
In the 26 weeks to June, the Walmart majority-owned retailer said its headline loss from total operations fell to 645.4 million rand, down from 1.09 billion rand in 2020. The loss was reduced by 56.8% simply by continuing operations.
Massmart's total sales rose by 4.4% to 41.3 billion rand ($2.77 billion).
($1 = 14.8856)
Massmart had implemented a trial initiative in-store under the Covid 19 situation to assist pension claimants with self-registration on the Electronic Vaccination Data System (EVDS).
The 16 locations for the pilot program were chosen based on the volume of South African Social Security Assistance (SASSA) transactions that took place there. The stores are located outside of major metropolitan areas in the Eastern Cape, Kwa-Zulu Natal, Gauteng, and the Western Cape.
About Massmart Holdings Limited
Massmart Holdings Limited is a retailer of consumer products. The company is an African retailer of general products, liquor, home improvement, and building supplies, as well as a food distributor. The company is divided into four divisions: Massdiscounters, Masswarehouse, Massbuild, and Mass cash. The Massdiscounters division is a discounter of food and miscellaneous merchandise. They are committed to investing in more environmentally friendly processes and commodities in order to ensure a brighter future for the company and the communities they serve.
Source: Reuters