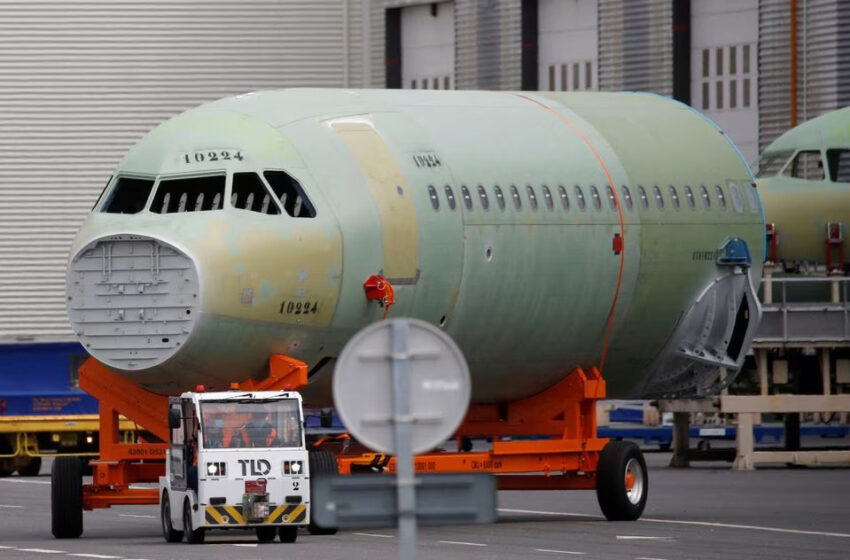 A fuselage section of an Airbus A320-family aircraft is transported at the Airbus facility in Montoir-de-Bretagne near Saint-Nazaire, France, July 1, 2020. REUTERS/Stephane Mahe
Exclusive: Airbus roiled by poor start to 2023 as industrial pressure grows
PARIS, Feb 13 (Reuters) – The boss of European planemaker Airbus has read the riot act to executives about disappointing deliveries in January and warned them that in 2023 Airbus cannot deliver fewer jets than its now-abandoned target for 2022, industry sources said.
Until now, Airbus has blamed mounting delays on suppliers led by engine makers. But the structure, operational controls and performance inside Airbus are increasingly in the spotlight as several suppliers predict more aircraft delays, they said.
Angered by the abrupt emergence of the last set of delays in late 2022, which derailed 2022 delivery targets, Chief Executive Guillaume Faury told managers last month's 33% drop in deliveries to 20 jets was another "wake-up call", they said.
"He made it clear this cannot happen twice," said one person briefed on the remarks in a Feb. 8 executive webcast. Another described the usually measured French engineer as "furious".
Airbus declined to comment on internal meetings. Shares in the planemaker were up about 1.6% in late trading.
The showdown came amid supplier speculation of a possible new wave of delays from Airbus after a first round in mid-2022 prompted it to cut its 2022 delivery goal to 700 jets from 720, followed by the November setback which saw the goal abandoned.
All eyes are on Feb. 16 earnings when the world's largest jetmaker is expected to outline cautious 2023 targets.
So far, sources have said they expect a delivery goal not far above the original 720 for 2022, though Faury's remarks do not exclude a pain threshold as low as 700. Many analysts nonetheless expect a goal closer to 750, up from 661 in 2022.
The first major test will be the first quarter for which suppliers say Airbus seeks close to 140 deliveries. After a weak January, that requires a steeper curve than in recent years.
Facing markets during that quarter may be an interim finance chief as Airbus struggles to agree a permanent one – a politically sensitive topic which, along with a legal feud with Qatar, has distracted attention from day-to-day operations.
Analysts say Faury will want to avoid spooking investors while insuring against the risk of more downgrades to guidance on deliveries from setting expectations too high. Airbus wants to understand any risks to guidance much earlier, by mid-year.
Airbus declined any comment on numbers ahead of earnings.
Its output woes have marred what should have been a celebration of resurgent demand with a record Air India order.
It is producing 45 best-selling A320neo-family jets a month and is expected to seek rates of 65 by end-2024 and 75 in 2026 – months later than previously planned. With more potential delays in the pipeline, some suppliers say even that looks ambitious.
On larger A350s, Faury said in October Airbus would lift monthly output to six from five in early 2023 and then explore more. But industry sources said Airbus throttled back to 4.5 a month in late 2022 and is now producing 5.6 on its way to six a month in 2024, where it may stay through 2025.
While Airbus shapes 2023, the fortunes of 12,000 suppliers remain mixed. There has been an improvement in supplies of electronic chips as well as computers for production tests.
Airbus has said it is close to weaning itself off Russian titanium, though some A350 supply risks remain.
On the other hand, sources say steel capacity has moved up the list of concerns amid pressures including debt restructuring at supplier Liberty Steel, which had no immediate comment.
Cabins are once again on the watch list with items as mundane as connecting rails for overhead "passenger service units" – containing light, fan and call button – running short.
Last week, Airbus urged suppliers to hold more stocks.
INTERNAL TASK FORCE
Yet despite hot spots, sources say several key yardsticks of supplier performance like missing-parts-per-million are steadily improving. As they do, internal pressures are coming into greater focus and forcing Airbus to set up a special task force.
Supplies of A320 fuselage shells from Nordenham, Germany, have been disrupted following tensions over a reorganisation. The result is work being done out of sequence which needs more time and labour. A220 cockpits are seen as similarly affected.
Airbus declined detailed comment on operations and referred back to Faury's comments in January that it faced a "complex environment" as well as a fragile supply chain.
Although many companies are struggling to stay abreast of disruption following COVID-19, some in the industry note a decision by Faury in 2019 to downgrade the top supply chain leadership post, which no longer reports to him directly.
In 2021, Faury also appointed an operations chief well respected for running military aircraft activities but with limited experience of higher civil volumes.
When snags do arise, many question whether they are cutting through layers of internal reporting as quickly as they should, especially following a slew of senior departures or retirements.
"There is a loss of control of the production process. It is more important to fix internal problems and not point fingers at the supply chain," a person familiar with the procedures said.
Some see signs of message fatigue. Following Faury's Feb. 8 web event, executives were told too few, or 57%, had logged in.
Faury has, however, insisted that bringing the supply chain back to health and modernising Airbus' industrial fabric, as well as preparing for decarbonisation, are critical priorities.
He told journalists in December that Airbus was investing in the next generation of digital factory production systems.
Reporting by Tim Hepher, Additional reporting by Eric Onstad Editing by Mark Potter