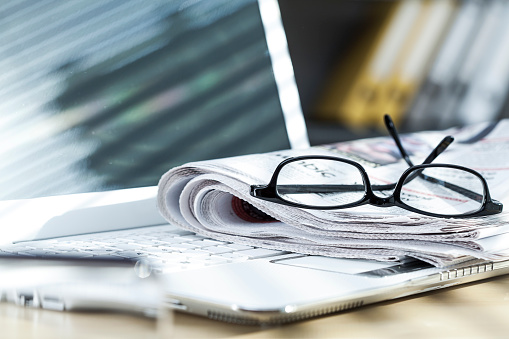 Finance publication industry in the United States plays a crucial role in shaping the learning of individuals and businesses around the globe. 
A finance publication gives multiple benefits to an individual. Some major benefits of following a Us-based finance publication are:
Stay updated with the global economic events & updates.
Updated knowledge helps in taking strategic investment decisions.
 Enhancement in professional and personal growth.
How to select the best finance publication for your professional growth?
Each publication caters to the needs of different audiences. Before selecting any publication, you should understand your requirements.  There are 5 critical factors you should check to select the right finance publication:
What does your profession demand?
A person reads a finance publication to gain insights and updates about the national and world economical events. But, economy and money is a vast topic. 
Depending on your profession, you should find out the sub-topics that are related to the finance industry and are most important for your professional growth. After this, you can check which publication covers these topics in detail.
The use of language
Many publications use a language that most of the audience doesn't understand. So read at least 5-6 articles and editorials to check if a publication is using a language that suits your understanding.
Who is writing their articles and editorials?
Nowadays it is easy to hire a content writer and get your articles published. But if you want real insights, you should follow experts from the respective industry.
So make sure to check the qualifications and expertise of the authors to save your time.
How updated and informative is their content?
Many publications do not update their content from time to time. This may result in getting inaccurate information. So make sure to check if the articles are updated. Also, the articles and editorials should cover the latest updates that too in a thorough manner.
Now you know what makes a publication best in the market. If you found a publication that matches the above 4 criteria, you can subscribe to or follow that publication regularly.
World Economic Magazine is a best finance publication and business news magazine that caters to finance professionals, learners and entrepreneurs from the Middle East, SouthEast Asia and North America.
As an online business news magazine, we strive to increase our global audience's understanding of today's global economy, financial literacy, and economic multipolarity. Our aim as a leading global financial magazine 2022 is to keep our audience informed about economic developments around the world by sharing insights and updates.
The magazine provides insight into a variety of subjects such as the economy, the workforce, people, leadership, products, services, and communication.
We as a one of the best economics magazines in the world are committed to provide:
Analysis of the multinational events.
Research and expert opinion on the important decisions by the fortune 500 companies.
Latest Banking news and updates
Latest Global Economy news and updates
Latest Updates from the finance world
Analysis of geopolitical conditions
Analysis on changes in the corporate world
Research and opinions on world economical events
A look at emerging trends such as Metaverse, Blockchain, Crypto markets, Green energy, Fin-tech, etc.
Interviews with experts and business owners from different industries.
In the last 2 years, we have helped more than a million individuals and hundreds of businesses all over the world using our extraordinary content and updates. Our dedication towards the work has helped us to become a leading part of Finance industry publication US.
We also believe in the power of businesses all over the world who have the potential to change the way human beings live. That's why every year we organize B2B Magazine Awards i.e. World Economic Magazine Awards 2022.
These awards are given on the basis of 4 major principles:
Effectiveness of the products or services of a respective brand.
Which problems or needs are they solving?
Growth and contribution of a respective brand in their industry.
Strong business ethics of a brand.
You can participate in the B2B Magazine Awards for the following reasons:
Get featured in the best economics magazine.
Increase market visibility of your business.
Connect with like-minded people.
Showcase your achievements to customers.
Get new customers.
Gain more trust from the existing customers.
Get coverage in industries best finance publications &  Banking news and updates publications.
Get featured in the fastest growing Finance industry publication US.
Accelerate your business growth with the help of a leading global financial magazine 2022.
Looking To Participate In B2B Awards? Our Platform: World Economic Magazine Awards 2022 Is All Set To Serve You!
For more details, visit here
FREQUENTLY ASKED QUESTIONS
1) In what ways do women in business magazines benefit from B2B magazine awards?
B2B awards allow women entrepreneurs & professionals to get recognition in the market, and show off their accomplishments and talents to the world.
2) Which are the Best finance publications for women?
The best finance publications for women are Forbesmagazine  and HER magazine.World Economic Magazine is also a great option that covers important analysis in the Finance industry publication US.
3) How big is the finance publication industry in the US?
Finance publication industry in the US is the largest in the world. The industry caters the needs of individuals, entrepreneurs and professionals all over the world.
4) How does a B2B magazine Awards help businesses to grow?
B2B awards give an opportunity for a business to showcase their products, services, achievements, etc. to a mass audience. It boosts a brand's awareness in the market.
5) Is World Economic Magazine a leading Global financial magazine 2022?
Yes, World Economic Magazine is one of the best Banking news and updates publications which makes them the most reliable Global financial magazine in the industry in 2022.
6) How is World Economics Magazine beneficial for women in business magazines?
World Economics Magazine is one of the best Banking news and updates publications for women to grow in their profession. The awards platform provides them an opportunity to showcase their talent and achievements to the world.
7) How can I select the best finance publication for me?
Each publication caters the needs of a different audience. You should select a publication that matches your interest, your understanding and the quality of content and insights available on that publication.
8) What makes a business news magazine best in the market?
A magazine that covers the nitty-gritty of the business world along with insights about the latest trends, events and informative articles, editorials and interviews with industry movers makes it the best in the market.