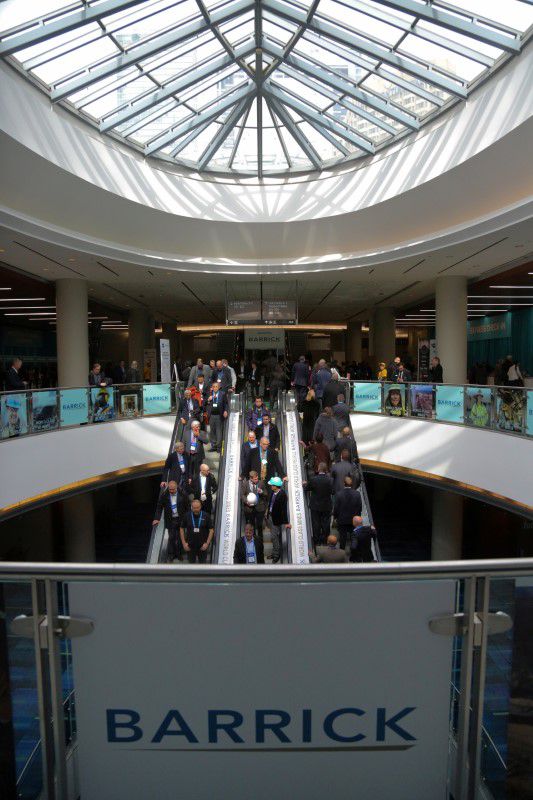 The logo of sponsor Barrick Gold Corporation is seen as visitors arrive at the Prospectors and Developers Association of Canada (PDAC) annual convention in Toronto, Ontario, Canada March 4, 2019. REUTERS/Chris Helgren
Barrick Gold reaffirms full-year targets after profit beat
Aug 9 (Reuters) – Barrick Gold Corp (ABX.TO), on Monday stuck to its full-year targets after it reported a better-than-expected quarterly profit, as higher prices for the yellow metal offset rising costs.
A weaker dollar and safe-haven buying due to COVID-19 pandemic-related uncertainties have underpinned prices for gold, which ticked up slightly in the second quarter to average around $1,814 per ounce.
While Barrick's realized gold prices rose 5.5% to $1,820 per ounce in the second quarter, production fell 9.4% to 1.04 million ounces, due to planned maintenance shutdowns at its Nevada Gold Mine in the United States and Pueblo Viejo in the Dominican Republic.
Barrick maintained its estimate to produce 4.4 million ounces to 4.7 million ounces of gold attributable to the company, and 410 million pounds to 460 million pounds of copper in 2021.
The company also reiterated its plans to spend between $1.8 billion and $2.1 billion, and all-in-sustaining costs of $970 per ounce to $1,020 per ounce of gold and $2-$2.20 per pound of copper.
All in sustaining costs, an industry metric that reflects total costs associated with production, rose 5.4% to $1,087 per ounce of gold in the second quarter.
Adjusted earnings per share of 29 cents beat estimates of 26 cents, according to Refinitiv IBES. Revenue of $2.89 billion, however, slightly missed estimates of $2.92 billion.
U.S.-listed shares of the company, which have fallen 8% so far this year, were down 1.4% in premarket trading, tracking a dip in gold prices.
Last month, rival Newmont chief executive officer warned of rising costs for materials, energy and labor in second half of the year and in 2022, adding aggregate costs were seen rising about 5% when steel, fuel and oils were factored in. read more
Shares of global miners have fallen so far this year after surging on record high gold prices last year.Reporting by Arathy S Nair in Bengaluru; Editing by Shinjini Ganguli
Our Standards: The Thomson Reuters Trust Principles.
Source: https://www.reuters.com/business/barrick-golds-profit-rises-higher-prices-2021-08-09/