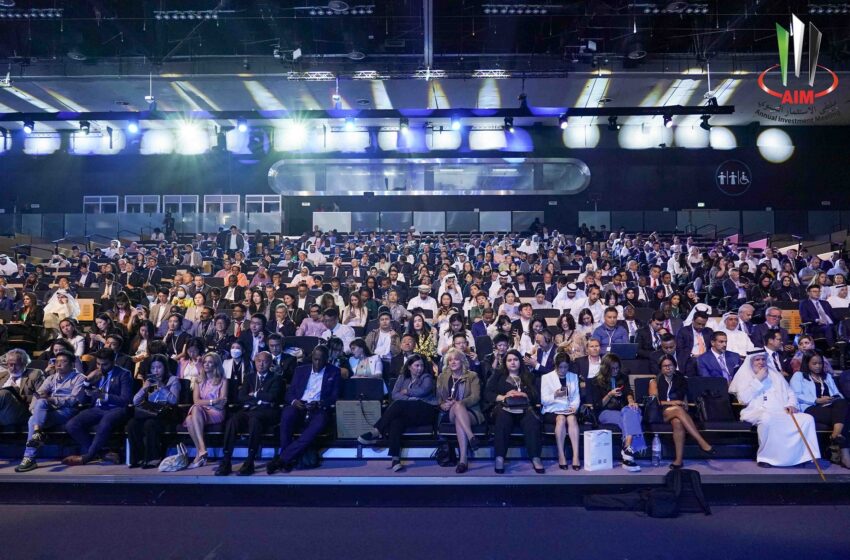 Annual Investment Meeting 2023 kicks off at ADNEC in Abu Dhabi
Abu Dhabi, United Arab Emirates, 8 May 2023: Under the patronage of His Highness Sheikh Khaled bin Mohamed bin Zayed Al Nahyan, Crown Prince of Abu Dhabi and Chairman of the Abu Dhabi Executive Council, the Annual Investment Meeting (AIM Global 2023) was inaugurated today (8 May) at the Abu Dhabi National Exhibition Centre (ADNEC) in Abu Dhabi.
Held in collaboration with the Ministry of Industry and Advanced Technology and the Abu Dhabi Department of Economic Development, this year's edition of the Annual Investment Meeting is anchored on the theme "The Investment Paradigm Shift: Future Investment Opportunities to Foster Sustainable Economic Growth, Diversity and Prosperity."
The global event witnessed a remarkable attendance of vast number of government ministers, decision-makers, and industry leaders from various countries around the world, as well as investors, senior representatives of multinational and large companies, startups, small and medium-sized enterprises, smart cities solutions providers, technology services vendors, and a large number of visitors from over 170 countries worldwide.
The first day of AIM Global 2023 kicked off with a series of keynote speeches and live panel discussions with top policy makers and business leaders as they shared their experiences and expertise with the participating delegations focusing on the current economic conditions and potential investment opportunities.
The list of speakers included prominent officials and economic figures, such as His Excellency Dr. Thani bin Ahmed Al Zeyoudi, UAE Minister of State for Foreign Trade, and His Excellency Ahmed Jasim Al Zaabi, Chairman of Abu Dhabi Department of Economic Development (ADDED).
Welcoming the guests during his speech, Dr. Thani Al Zeyoudi said: "It is my pleasure to welcome you all on behalf of the UAE government to the Annual Investment Meeting being held under the theme of 'The Investment Paradigm Shift: Future Investment Opportunities to Foster Sustainable Economic Growth, Diversity and Prosperity'. The aim of this event is to discuss and explore current and future investment opportunities, promote foreign investment, and enhance sustainable economic growth on a global scale. We anticipate a series of discussions and agreements between governments, business leaders, and investors to achieve these goals throughout the three days of the event."
In his remarks, Dr. Thani Al Zeyoudi emphasized the importance of sustainable global economic growth, which lies in achieving integration across different sectors and adopting investment policies based on deploying advanced technologies that reduce carbon emissions and rely on clean and renewable energy sources to contribute to sustainable development. He also stressed on the significance of public-private partnerships in investing in the integration and interconnectivity of supply chains.
He referred to the results of the 2022 Foreign Direct Investment report released by the United Nations Conference on Trade and Development, which ranked the UAE first regionally and 19th globally in terms of its ability to attract foreign direct investment. The report also ranked the UAE 17th globally in terms of its foreign investments, with investment flows from the UAE reaching $22.5 billion in 2021, an increase of 19% compared to 2020.
Moreover, Dr. Thani Al Zeyoudi highlighted the importance of the Annual Investment Meeting as one of the largest investment gatherings in the world, bringing together top officials, investors, and business delegations from different countries to meet, discuss, and forge strategic partnerships in Abu Dhabi, which has solidified its position as a global hub for business growth and development and a preferred destination for international events and exhibitions.
In his keynote speech, His Excellency Ahmed Jasim Al Zaabi, Chairman of the Abu Dhabi Department of Economic Development's (ADDED) highlighted the great strides made by Abu Dhabi in achieving its economic diversification strategy, and laying down a solid foundation to continue developing a knowledge-based, innovation-driven economy. H.E. said "Abu Dhabi is witnessing the rise of the Falcon Economy which continues to go from strength-to-strength, driven by agile policies and robust regulatory and legal framework, making us an anchor for companies looking to expand their operations in the region. Our rapid economic growth, along with the growing confidence of the international community to live, invest and thrive in Abu Dhabi, make us an ideal destination of choice".
H.E. has announced that "The Abu Dhabi's real GDP in 2022 has exceeded AED 1 trillion, with non-oil sectors contributing by 50% of teh total GDP, reaffirming success of economic diversification strategy which encouarges public-private partnership and foreign and domestic investments. Our aim is to increase Abu Dhabi's non-oil exports by 143% to AED 178.8 billion by 2031".
H.E. Al Zaabi further expalins: "Abu Dhabi's remarkable success story is only in its initial stages, and it will continue to thrive as the most competitive destination for industry, trade, and finance in the region. We continue to offer unparalleled support and incentives to help global businesses succeed, with business enablers and innovation hubs, and solid investment entities that provide funding. To strengthen Abu Dhabi's economy and accelerate economic diversification, we ahve launched a series of bold initiatives solidgfying our business-friendly ecosystem. This is a testament to Abu Dhabi's role as a business enabler and our efforts to provide a solid infrastructure for businesses to thrive".
The first day of the event featured the Global Leaders Debate and the Fireside Chat with Russia with the participation of ministers, high-ranking government officials, and senior officials of international organizations. In parallel, several panel discussions were organized as part of AIM Global 2023's Investment Track and Innovation & Technology Track.
Under the Investment Track, the first session tackled the "Global Economic Outlook: Beyond the Paradigm Shift, Where Next for the Investment Market," which explored the opportunities for FDI and FPI in identifying changes that will transform the global investment landscape.
The "Abu Dhabi Initial Public Offering (IPO) Fund" session came next, followed by a session entitled "Devoting FPIs Towards a Greener World," and, finally, the "Creating Resilient Supply Chains to Enhance Growth Opportunities" session.
The focus of the Innovation & Technology Track, meanwhile, was on future cities, digital transformation, and transitioning between future transformative technologies, as well as leveraging foreign direct investment towards future cities. In addition, the role of startups in achieving economic growth was also discussed, along with the role of small and medium-sized enterprises in expanding the technology market and implementing more modern technological solutions and attracting investments.
On the sidelines was the "2023 Entrepreneurs Investment Summit" held under
the sponsorship of the League of Arab States, and organized by the Union of Arab Chambers, the Arab Bank for Economic Development in Africa, and the United Nations Industrial Development Organization Investment and Technology Promotion Office – Bahrain. The summit provided a platform dedicated to promoting bankable investment opportunities led by entrepreneurs, small and medium-sized enterprises, and macro investments from the region, among other objectives.
The World Health Organization's "World Local Production Forum" discussed enhancing access to medicines and other health technologies through collective action, and the importance of investing in innovation and technology transfer to improve and sustain healthcare service.s
The "Global Credit Management & NPL Investments Forum," organized by DDC Financial Group, featured three dialogues, which tackled the available opportunities for investors in the field of non-performing loans as well as the current economic environment and its impact on the rising interest rates, among other topics.
The first day of the forum witnessed a remarkable turnout of visitors, in addition to distinguished participation from several countries to showcase their top investment opportunities, including Moscow, Armenia, Georgia, and Namibia. There was also the Association of Southeast Asian Nations (ASEAN) Regional Focus Forum, which was organized in collaboration with the ASEAN Business Advisory Council.